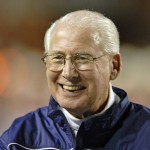 By Kenny Lannou, K-State Athletics Communications
The architect of the "greatest turnaround in the history of college football," Kansas State head coach Bill Snyder was one of six coaches from the Football Bowl Subdivision (FBS) placed on the 2015 ballot for induction into the College Football Hall of Fame, the National Football Foundation (NFF) announced Wednesday.
A five-time National Coach of the Year honoree and seven-time conference coach of the year recipient, Snyder has compiled an amazing 183-91-1 record in his 22-plus years as the helm of the Wildcat program. He ranks 35th all-time in victories among FBS coaches and continues to climb the ladder with each win.
"Coach Snyder's career as a leader, football coach and most importantly mentor to so many people is truly remarkable and inspirational," Athletics Director John Currie said. "We are so fortunate to have one of the very best coaches in college football history leading our student-athletes, while his transformational impact has greatly benefited K-State and the Manhattan community. Being recognized as one of the top coaches of all-time by inclusion on this year's hall of fame ballot is a testament to his hard work, dedication and the respect he has garnered from the college football community."
Snyder is one of 193 total individuals on the ballot, which includes players and coaches from both the FBS and divisional ranks. The announcement of the 2015 class will be made Friday, January 9, 2015, at the media hotel for the College Football Playoff National Championship Game, which will be played at AT&T Stadium in Arlington, Texas.
To be eligible for the ballot, coaches must have coached a minimum of 10 years and 100 games as a head coach; won at least 60 percent of their games; and be retired from coaching for at least three years. However, if he is over the age of 75, he is eligible as an active coach, as is the case with Snyder.
The ballot was emailed Wednesday morning to more than 12,000 NFF members and current Hall of Famers whose votes will be tabulated and submitted to the NFF's Honor Court, which deliberates and selects the class. Chaired by Gene Corrigan, a former ACC Commissioner and NCAA president, the 17-member NFF Honors Court includes an elite and geographically diverse pool of athletic administrators, Hall of Famers and members of the media.
"We are so proud of Coach Snyder," said K-State President Kirk Schulz. "He has represented Kansas State University, the Manhattan community and college athletics with the utmost class and integrity. This is such a fitting honor for someone who has positively influenced the lives of countless student-athletes and the entire K-State family."
Called the "coach of the century" by hall of fame coach Barry Switzer, Snyder's accomplishments at K-State are nearly unthinkable considering what he inherited during his first tour of duty beginning in 1989. The Wildcat program was in the midst of an 0-26-1 run when he was hired and had been just one bowl game in its first 93 seasons. During a the span of 11-straight bowl seasons (1993-2003), Snyder's Wildcats won nearly 80 percent of their games, chalking up 109 victories – a staggering 10 wins per season – and making K-State the nation's second winningest program over that period. His first tenure included a Big 12 Championship in 2003 in a 35-7 win over No. 1 Oklahoma, while his 1998 team held a No. 1 ranking in the BCS Standings. Snyder retired from coaching prior to the last game of the 2005 season, and the Wildcats sent him out with a 36-28 come-from-behind home victory over Missouri in the first game of the newly renamed Bill Snyder Family Stadium.
Following a three-year hiatus, Snyder returned to the sidelines in 2009, and it has been more of the same as his teams have accumulated a 47-23 record through five-plus seasons. The Wildcats are in the midst of four straight bowl seasons, including a pair of 10-win campaigns in 2011 (10-3) and 2012 (11-2). The 2012 Wildcats captured the program's second Big 12 Championship and held another No. 1 national ranking. After turning 75 years old two weeks ago on Oct. 7 – which qualified him to be included on this year's ballot – Snyder's team promptly traveled to No. 11 Oklahoma and pulled out a 31-30 victory to run its record to 5-1.
The new tradition of announcing the College Football Hall of Fame inductees on the Friday before the national title game will have no impact on the induction ceremonies, which will continue to take place during the NFF Annual Awards Dinner in New York City at the Waldorf Astoria, and the 2015 class will be inducted Dec. 8, 2015.
No. 11 Kansas State returns home this weekend to take on Texas in its annual Homecoming game at Bill Snyder Family Stadium. The game, which kicks off at 11 a.m., and will be televised by ESPN, will be the 18th-consecutive sellout, but standing-room only tickets remain available. Those tickets may be purchased by contacting the K-State Athletics Ticket office online at www.k-statesports.com/tickets, by phone at 1-800-221-CATS or in person at the main office inside Bramlage Coliseum.