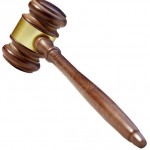 A Topeka man was sentenced Monday to 57 months in federal prison after he pleaded guilty to federal bank fraud charges in connection with a plan to build an apartment complex in Junction City.
John Duncan (53) pleaded guilty to two counts of bank fraud, one count of money laundering, and one count of making false statements in documents required by the Employee Retirement Income Security Act.
In court documents, Duncan was alleged to have obtained a $15.2 million construction loan for the purpose of constructing Quinton Pointe Apartments in Junction City. He was required to provide $1,225,000 in collateral.
He instructed employees of Schmidt Builders to create a false invoice in an amount of more than $1.3 million to a company he owned called Blue Jay Properties LLC in order to create the false appearance that Blue Jay Properties had prepaid Schmidt Builders for the lumber.
In another count, Schmidt Builders acquired a $12 million line of credit loan from Kaw Valley National Bank of Topeka and agreed to provide the bank with monthly financial reports. Duncan submitted reports to the bank containing false information about the age of certain accounts receivable and the amount of inventory on hand.