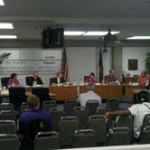 Several items on Wednesday night's Manhattan Ogden USD 383 school board meeting were approved.
Kids Voting Kansas is a part of Kids Voting USA, which provides elementary and secondary students the opportunity to participate in the voting process within their schools.  The school district has participated in this process during both the 2008 and 2010 elections.
The board unanimously approved this year's program as well.
—
Two improvement projects were brought up, as bids have been submitted for both projects.
Manhattan High School's east campus has had significant storm water problems, and sidewalk and fence improvements are needed for the parking area.  Three bids, all out of Manhattan, were submitted for the project.  The lowest bid, from Cheney Construction, is for just over $27,000.
The board unanimously approved Cheney's bid.
The other project was for Anthony Middle School and Eisenhower Middle School clock system improvements.  The existing equipment was installed in 1996.
Only one bid was submitted for the project-which came out of Electronic Contracting of Lincoln, Nebraska.  The bid was for almost $31,500, and was approved.
—
A moment of silence was held in honor of the MHS student that died last month.