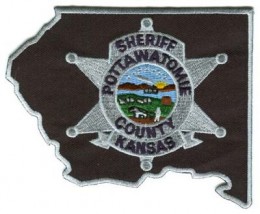 The Pottawatomie County Sheriff's Office issued a press release Monday involving an incident that took place on Sunday evening just before 9 p.m.
An unwanted subject was reported in a residence in Emmett, but the subject left the residence prior to the deputy arriving on scene.  According to reports, the individual was driving a white van.
The deputy was able to locate the white van, and stopped the vehicle for a traffic infraction.  After making contact with the driver, the driver drove away.
A low speed chase ensued, which went through the town of Emmett, and then continued south on Highway 63 towards St. Marys.  Officers from the St. Marys Police Department deployed tire deflating devices on Highway 63, which the van struck, and it then struck a St. Mary's Police Department car at the intersection of Mt. Calvary Road and Highway 63.
The chase continued for some time, until the vehicle came to a stop in St. Marys, where the driver was then arrested.  The driver was identified as Tiffany Botts (43) of Topeka.  Botts was arrested for felony criminal damage to property, flee and elude, driving under the influence, and transporting an open container.  No injuries were reported, bond is currently being set, and the St. Mary's police car damage is over $1,000.