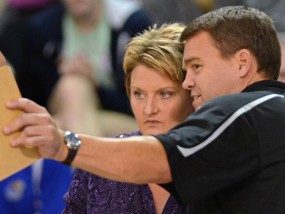 (photo courtesy of Kansas State Athletics)
Kylie Zumach notched 15 kills, and the Wildcats rebounded from a huge, first set deficit to take down Texas Tech on Saturday in Lubbock in straight sets 27-25, 25-18, and 25-22.  K-State improves to 15-2/2-1 on the season.  Redshirt senior Natali Jones tallied a .417 hitting percentage, and had five blocks.  Texas Tech falls to 14-2/2-2.
The Red Raiders came out strong in the first set, racing out to a 12-1 lead before the Wildcats rebounded with runs of 6-0 and 4-0, eventually tying the set at 18.  After escaping set point, K-State got kills from Zumach, Jones, and Katie Reininger and took the set 27-25.  Sets two and three were tightly contested affairs, but the Wildcats were able to complete the sweep.
"We probably had no business coming back in the first set, but they stayed in the present and played point-to-point", said head coach Suzie Fritz.  "Had that first set got away from us, there might have been a different outcome."
This was K-State's first win in Lubbock since October 8, 2011.  It's also their second straight conference road win…a feat they haven't achieved since winning at Missouri and Oklahoma in September, 2004.  This marks the first time the Cats have won their first five road matches since going undefeated (5-0) away from home in 1978.
The Wildcats return to Ahearn Fieldhouse this Wednesday night to host Iowa State at 7pm.  Coverage on Newsradio 1350 KMAN begins at 6:30pm.