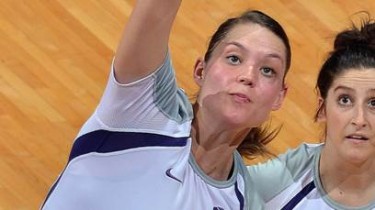 Photo Courtesy Kansas State Athletics
By Chris Kutz, K-State Athletics Communications
A career-high 12 kills and match-high seven blocks by redshirt senior Natali Jones helped lead the No. 22 K-State volleyball team to a 3-0 sweep of Oklahoma (25-14, 25-19, 26-24) on Wednesday in Ahearn Field House.
Jones had four kills in each of the three sets, but her final kill of the night tied up the third at 24-all and was part of a come-from-behind set win. The Wildcats (18-3, 5-2 Big 12) were up against set point four times in the final set, first at 24-20, but sparked by a kill by Katie Brand, K-State rattled off six straight points to complete the rally and finish off its 10th sweep of the season.
"We were as offensively productive [tonight]as we have been probably since conference play started," said K-State head coach Suzie Fritz. "We hit .380, everyone was involved, and we had really good balance in offense. I thought our passing was a little bit more consistent, and we won the serving and receiving battle. The things that we have been really stressing and working on, getting a lot of feedback in, talking a lot about, and spending a lot of time on, we were able tonight to implement some productive change."
Jones tallied her double-digit kills with the help of a .688 hitting percentage as she had only one error on her 16 attempts. Defensively, the middle blocker also had five digs to go with her seven blocks. She now has 47 kills and 37 blocks over the last six matches.
Brand guided the K-State offense to a .389 hitting percentage, its second match over the last three with a .300+ clip, by recording 37 assists. The setter also had six kills on a .750 hitting percentage along with five blocks, five digs and an ace.
Sophomore Brooke Sassin joined Jones in double-figures in kills, registering 11 on a .375 hitting percentage.
Four Wildcats hit over .300 as redshirt senior Chelsea Keating hit .333 to help record her five kills. Keating also had nine digs and two blocks.
"I think we had a great game plan like always," said Brand. "Our coaches always have a set plan that if we execute it, we have a really good shot of winning and slowing them down. By staying on task and slowing them down, we will win games."
The Wildcat defense, meanwhile, held Oklahoma (14-6, 5-2 Big 12), one of the top offenses in the conference, to a .192 hitting percentage. K-State had 11.0 blocks, with five different Wildcats tallying multiple stuffs.
K-State was overwhelming offensively in the first, tallying 15 kills on 23 attempts with only one error. Sassin had five kills in the first while Jones and Katie Reininger were flawless on their four and two attempts, respectively. Jones decided the opener not with a kill, though, but an ace, one of six K-State aces on the night.
K-State, which never trailed in the first, attempted to pull away from Oklahoma in the second after the two sides were tied at 8-8. Sassin ignited the Wildcats with a kill, helping K-State score seven of the next 10 points.
The Sooners answered, however, coming out of a media timeout, tying it up at 15-15 with four straight points. A timeout by K-State broke up the Oklahoma momentum, and the Wildcats fired off four straight points of their own. Two kills by Jones, an ace by Gina Madonia and a kill by Keating gave K-State a lead it never relinquished in the second.
The Wildcats did not lead much in the third, trailing by as much as eight points at 17-9. K-State slowly drained the OU lead, though, beginning with three points in a row that made it 17-12 Oklahoma and forced the Sooners to call a timeout.
With the Sooners in the lead at 23-17, K-State began its final push, started by a kill by Sassin. Back-to-back duo blocks by Brand and Reininger made it 23-20, but Kimmy Gardiner's kill pulled Oklahoma within set point. Brand quickly followed with a dump kill while she paired up with Jones for a block. After Zumach's eighth kill of the match, Jones tied it up at 24-24 with her final kill. An attack error by Gardiner gave K-State match point, which was recorded with another kill by Brand.
K-State will hit the road for the first of three times over its next four matches when it plays West Virginia in Morgantown this Saturday, October 25 at 5 pm ET/4 pm CT.