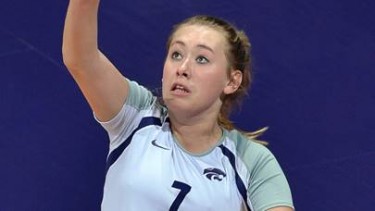 Photo Courtesy Kansas State Athletics
By Chris Kutz, K-State Athletics Communications
MORGANTOWN, W. Va. – Four Wildcats reached double-figures in kills, led by 24 from freshman Kylee Zumach, as the No. 22 K-State volleyball team fought off West Virginia for a 3-2 win (27-29, 25-23, 25-21, 23-25, 15-12) in WVU Coliseum on Saturday.
K-State (19-3, 6-2 Big 12) dropped the first set, but for the fifth time this season, the Wildcats came from behind to win the match. The win also improved K-State to 7-0 in true road matches, its most road wins in a campaign since 2008.
Zumach had all but three of her kills after the first set, hitting .305 for the night, while redshirt sophomore Katie Reininger had a career-high 17 kills. Sophomore Brooke Sassin finished with 15, and redshirt senior Natali Jones matched her career-high in kills—a mark she set earlier in the week against Oklahoma—with 12.
K-State out-hit West Virginia (13-9, 3-5 Big 12), .294-.263, but the Wildcats had 34 combined errors (23 attack, eight service and three block).
"We did not have the sense of urgency to play clean, to keep the errors low and manage a bad situation," said K-State head coach Suzie Fritz. "What was getting away from us was within our control, and we knew that if we could start to manage situations better, we could work our way back into the match and get better as we went."
The Wildcats also out-blocked the Mountaineers, 11-10, with redshirt senior Chelsea Keating leading the way with seven. The outside hitter also paced K-State in digs with a career-high 18.
Two Mountaineers had more than 20 kills, led by Nikki Attea's match-high 25 on a .512 hitting percentage.
"That's a good team – they hit .300 in first-swing [offense]," said Fritz about West Virginia. "We felt we had a good defensive plan going into it, but honestly, we were better offensively than defensively. That is not our trend. I like what our offense did, though, so maybe now we can start to get more balance and get our offense and defense working more in sync."
Redshirt sophomore Katie Brand had a double-double with 63 assists, a career-high, and 14 digs. The setter also added four kills, two blocks and an ace.
K-State controlled the majority of the first set, but the Mountaineers clawed back late when the Wildcats were ahead 23-19. West Virginia called a timeout after their ninth attack error of the set gave K-State the four-point lead, and the break fulfilled its intention as the Mountaineers scored three straight points to pull within one. A kill by Reininger gave K-State set point, 24-22, but the Mountaineers used a kill, Wildcat attack error and block to give themselves their first set point, 25-24. Sassin's third kill of the first, though, evened it up at 25-all, setting off the two sides in a sideout battle. Back-to-back K-State errors eventually allowed West Virginia to convert on its fourth set point.
While West Virginia came back in the first, K-State staged a come-from-behind win in the second. The Mountaineers were two points from taking a 2-0 lead in the match when a kill by Attea made it 23-20 West Virginia. The Wildcats scored five straight points, though, to claim the set, sparked by one of Zumach's six kills in the second. After a pair of West Virginia attack errors and a kill by Jones, Keating combined with Jones for the Wildcats' fourth block of the second to tally the set point.
Despite a West Virginia surge midway through the third, K-State used a combined 12 kills by Zumach and Reininger to gain an advantage in the match. One of Zumach's six kills in the set gave K-State a 19-10 lead—its largest advantage of the third—before the Mountaineers scored six of the next seven points to cut the advantage to 20-16. The Wildcats did not allow the Mountaineers to come any closer, however, as Reininger's final two kills of the third gave K-State the set win.
In the fourth, the two sides exchanged points midway through, but a Zumach kill was followed up by a West Virginia attack error and ace by Brand to give the Wildcats a 20-18 lead. West Virginia quickly answered with back-to-back kills by Attea to even it up at 20-20. The Mountaineers went on to take a 23-21 lead, but the Wildcats answered with a kill and a block to knot it up at 23-all. A K-State service error was followed up by a kill from Jordan Anderson to give the Mountaineers the set.
Sassin had four kills on a .571 hitting percentage in the fifth, including the final one that made it 13-10 K-State. After Zumach's 24th kill of the match gave K-State match point, West Virginia pulled within two on a kill that made it 14-12. Jones, who hit .667 on the night, converted match point with a kill.
The Wildcats will have the midweek off before returning to action on Saturday, November 1 against Texas Tech in Ahearn Field House. The start time is still to be determined as the two teams are awaiting the start time of the K-State vs. Oklahoma State football game to be announced.