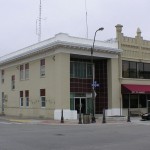 Wamego property owners returned to protest the City Commission. At Tuesday's meeting, the Contractor Licensing Code issue was the draw after the issue was tabled at the October 7th meeting. Initially, Mayor Vic Enns allowed the group 30 minutes to address their concerns. The issue is the City's Building Code ordinance recent change that requires landlords to hire licensed contractors to do any work on a property that requires a building permit on any property that is not their primary residence.
Contractor Richie Chrest, spokesman for the group, said all the landlords and business owners had different reasons for objecting to the current ordinance, and felt the City was dictating to property owners which contractor they should use. He asked for a show of hands to several questions and the hands came up for those not in favor of the ordinance. All those that spoke said they felt they had a good relationship with Building Inspector Mac Campbell, and worked closely with him on any work issues. All felt the ordinance should be amended to allow business and property owners to do their own work by securing the proper permits and with regular inspections.
A motion made by Commissioner Tom Beem , to allow property owners to do their own work, died for the lack of a second. A motion made by Mayor Enns to table the issue for a public forum, which is scheduled for October 28th at 7 p.m., was approved. City Manager Merl Page said they may need to change locations for this meeting and will post the meeting location on the City's website.