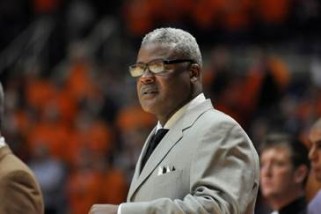 (Courtesy of Kansas State Athletics Communications)
MANHATTAN, Kan. – Wayne McClain, a former aide to head coach Bruce Weber at Illinois and Kansas State, passed away on Wednesday at Carle Foundation Hospital in Urbana, Illinois after an illness. He was 59.
An ultra-successful high school coach, McClain came to K-State in October 2012 as director of student-athlete development after spending 11 years at Illinois (2002-12), including the last nine with Weber. Although he spent just one season at K-State before returning to the prep ranks, he made it a memorable one as he helped the Wildcats to a 27-8 overall record and a share of their first conference title since 1977 with a 14-4 Big 12 mark.
"I'm very saddened by the passing of Wayne," said Weber. "I don't know if I have ever been around a better man, whether it was with his family or with his players. He had such a huge heart and cared for so many people. He touched so many people's lives from here (at K-State) to Illinois to Peoria (Illinois). To me, he goes down as an icon for basketball in the state of Illinois whether it is in high school with the four state championships or helping Illinois win four Big Ten championships and advance to the Final Four."
During his time in the college ranks, the Fighting Illini and Wildcats combined to win 262 games and advanced to the NCAA Tournament 10 times, including a trip to the national championship game in 2005.
McClain joined the staff at Illinois under then head coach Bill Self in 2002 after a distinguished 25-year coaching stint (1977-2001) at Manual High School in Peoria, Illinois, including seven years (1995-2001) as head coach. The 1997 USA Today National High School Coach of the Year, McClain led the Rams to a 94-5 (.950) record and three consecutive AA state championships (1995, 1996 and 1997) in his first three years as head coach.
His 1997 squad, which was led by son Sergio McClain, Marcus Griffin and Frank Williams, was named the National High School Champions by USA Today after posting a 31-1 overall record. In addition to his three state titles, the elder McClain also guided the Rams to Sweet 16 appearances in the AA state tournament in 1998 and 1999 as well as Midstate Six Conference titles in each of his first five years. He was named the Illinois Basketball Coaches Association Coach of the Year in 1995, 1996 and 1997. He coached the 2013-14 season at Champaign Central High School.
McClain coached a number of players who went onto play collegiately, including four who played at Illinois. His son, Sergio, who helped the Fighting Illini to two Big Ten titles from 1998 to 2001, played on all four Manual state championship squads (1994, 1995, 1996, 1997). Griffin, Williams and Jerry Hester also played for Illinois.
McClain began his high school coaching career at Manual in 1977, serving as an assistant coach to the legendary Dick Van Scyoc for 18 years until being named head coach in 1995. McClain helped the Rams to the first of four consecutive state titles in 1994. His teaching career included teaching at the sixth grade level, teaching high school physical education and as Manual High School Dean of Students.
McClain earned a master's degree in physical education from Illinois State University in 1982 while teaching at Manual. He is survived by a son, Sergio, and daughter, Brindeshie, and a grandson, Sergio, Jr.