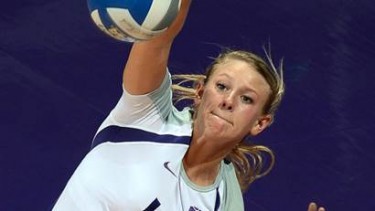 Photo Courtesy Kansas State Athletics
By Chris Kutz, K-State Athletics Communications
AUSTIN, Texas – The No. 22 K-State volleyball team won the first set against No. 5 Texas, but the Longhorns captured the final three to win the top-25 matchup in Gregory Gym on Friday, 3-1 (16-25, 25-15, 25-21, 25-16).
The Wildcats (20-5, 7-4 Big 12) hit over .400 to win their first set against Texas (18-1, 10-1 Big 12) since November 12, 2011, but the loss extended K-State's losing streak to the Longhorns to 23 straight matches. For the match, Texas out-hit K-State, .278-.216.
"We out-served them, and we out-passed them in the first one," said K-State head coach Suzie Fritz. "We were in system a little more often than they were. We were putting some really nice pressure on them with our serving, and we were winning transition points. We didn't keep that consistent. We backed off a little bit."
Friday's defeat also marked the first time this season K-State dropped back-to-back matches. The Wildcats fell to 7-2 in true road matches as well.
"We were not as aggressive in set two," added Fritz. "We made a few more unforced hitting errors – some things that were within our control. In addition to that, [Texas] got better as they went, which is what we would expect at home."
Sophomore Brooke Sassin had 13 kills to lead K-State while freshman Kylee Zumach hit .310 to tally her 12 kills.
Redshirt sophomore Katie Brand had 43 assists and 11 digs to register her Big 12-best 16th double-double.
Brand was one of three Wildcats with double-digit digs as sophomore Kersten Kober had a match-high 13. Redshirt senior Chelsea Keating had 11 digs along with nine kills, four blocks and an ace.
"I thought we battled," said Fritz. "We continued to get productive touches at net and continued to play hard on defense. When our passing broke down is when they ran points on us. For every volleyball team in America, that's a constant challenge: how often can you be in system. It's the great equalizer. Right now, we still have some inconsistencies there that we are trying to solve."
K-State gained the first point in the opening set on a Texas ball-handling error and never looked back, with the Wildcats opening its first five-point lead at 10-5 on a kill by Natali Jones. Texas did close it within two, 16-14, but a kill by Zumach, an ace by Gina Madonia, and a kill by Keating made it 19-14. The ace by Madonia was one of three by the Wildcats in the first, which was also their total for the entire match.
The Wildcats later scored the final five points of the set, with two coming via kills by redshirt sophomore Katie Reininger. The middle blocker was clean on her four attempts in the opener, hitting .750. As a team, the Wildcats had one error on their 31 first-set attempts, hitting .419.
In the second, the hot-hitting changed sides as Texas out-hit K-State, .393-.154. The Longhorns scored the first four points, forcing K-State to burn its first timeout, but the Wildcats were never able to pull any closer than four points after Texas took an 8-4 lead. Zumach's back-to-back kills that made it 11-7 Texas was the last time K-State scored consecutive points in the second.
K-State led 4-3 early in the third, but a kill by Chiaka Ogbogu followed by three consecutive unforced attack errors from the Wildcats led K-State to call its first timeout, trailing 7-4. Texas went on to open a 22-15 lead, but a 5-1 run, capped by back-to-back kills from Keating, pulled the Wildcats within three, 23-20. A block by Texas interrupted the run, and after a kill by Sassin off the Texas block, Haley Eckerman clinched the set with her sixth kill of the match.
After going down 10-5 in the fourth, K-State was unable to close the gap any closer than four points once again. With the score at 14-10, Texas went on a 4-0 run before Sassin's kill off the block interrupted the burst. The Longhorn lead swelled back to eight at 19-11, but Sassin's kill preceded back-to-back attack errors by Texas to pull the Wildcats within five, 19-14. Texas called a timeout to interrupt K-State's 3-0 spurt, and the Longhorns answered with a kill and two blocks to help close out the match.
K-State will return home and face Kansas in the final meeting of the Sunflower Showdown this season. The Wildcats and Jayhawks will meet in Ahearn Field House on Wednesday, November 12 at 7 p.m.