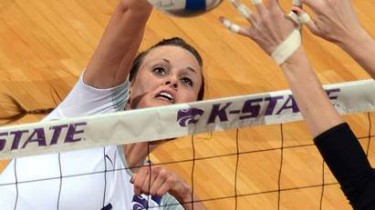 (Photo Courtesy Kansas State Athletics)
By Chris Kutz, K-State Athletics Communications
AMES, Iowa – The No. 22 K-State volleyball team dropped its first true road match of the season as the Wildcats fell at Iowa State, 3-0 (25-23, 25-23, 25-22), on Wednesday in Hilton Coliseum.
The Wildcats (20-4, 7-3 Big 12) had won seven consecutive true road matches to start the year, but they ran up against Iowa State (12-9, 4-6 Big 12) in Ames, where K-State has not won in its last seven matches.
K-State out-hit Iowa State, .217-.192, but 17 attack errors and six service errors—and no aces—prevented the Wildcats from finding a rhythm to finish out the sets. The Wildcats led 22-21 in both of the first and second sets, but the Cyclones put away K-State by going on late runs and taking the 2-0 lead in the match.
Freshman Kylee Zumach led K-State with 13 kills, on a .209 hitting percentage, while redshirt senior Chelsea Keating followed with eight kills. Keating also added seven digs and four blocks.
Redshirt sophomore Katie Brand had 35 assists, including 17 in the first set when K-State hit .311. The setter had four kills, four digs and three blocks as well.
Sophomore Kersten Kober had a match-high 18 digs, but Iowa State out-dug the Wildcats, 54-49.
The Wildcats trailed for most of the first, but behind a .300+ hitting percentage for the entire set, K-State was able to erase what was a 19-15 Iowa State lead. K-State began digging out of its hole with three kills by Zumach that brought the Wildcats within two, 20-18. The run was later stretched to 6-1, with the final point of the burst, on an Iowa State ball-handling error, giving K-State a 21-20 advantage. The two sides were tied at 22-22, but Brooke Sassin's first kill of the match gave the Wildcats a 23-22 lead. However, Iowa State scored three straight points to close out the set.
K-State overcame a slow start to the second when it scored five straight points to pull within one at 9-8. Later, the Wildcats went on a 7-0 run after trailing 15-11 to take a three-point lead. Over the burst, Brand had a pair of kills, including the final one that made it 18-15 K-State.
Ciara Capezio's kill that made it 18-16 not only snapped the run of seven straight K-State points, but it sparked Iowa State's comeback in the set. K-State was able to take a two-point lead at 21-19 on a duo block by Natali Jones and Keating. Iowa State, though, scored six of the final eight points to take the 2-0 lead in the match.
The Wildcats never led in the third, and with the score at 12-10 Iowa State, the Cyclones began to pull away with a pair of kills followed by a K-State attack error. Iowa State led by as much as seven points, but the Wildcats, when they trailed 23-18, rattled off three straight points to pull within two, 23-21. After an Iowa State timeout, the Cyclones put away the Wildcats for the sweep with two of the final three points.
Jones had five blocks, along with four kills. Katie Reininger matched Jones in blocks to help K-State out-block Iowa State, 11.5-6.5.
K-State continues its road trip with a match at No. 5 Texas on Friday, November 7. First serve is at 7 p.m.