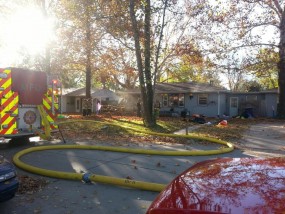 At 8:37 a.m. Saturday, the Manhattan Fire Department was dispatched to 737 Frey Drive for a report of a structure fire.  Upon arrival, companies found a single-story residence with light smoke showing.  Further investigation revealed a fire located near the furnace, that was contained by the first alarm assignment in approximately 20 minutes.  A total of 15 firefighters responded on 5 fire apparatus with the last units clearing at around 11:50 a.m.
The building is a single family dwelling and the occupants were at home at the time of the fire.  Loss is estimated at $10,000 to contents and $10,000 to the structure.  The building was unable to be occupied after the fire due to damage to the building's electrical and heating systems.  The owner is listed as Michael Barton of the same address.  The fire cause is under investigation at this time, but is believed to be accidental starting in the crawl space of the home.
With tonight being the end of daylight savings time, the Manhattan Fire Department would like to remind residents to "Change your clocks, change your batteries" in both smoke detectors and carbon monoxide detectors.  The number of structure fires and carbon monoxide incidents typically increase with the weather turning colder.