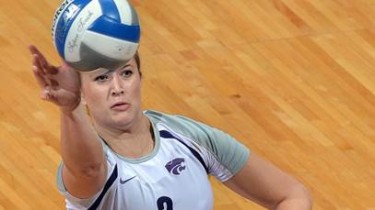 Photo Courtesy Kansas State Athletics
By Chris Kutz, K-State Athletics Communications
For the first time since 2011, the No. 22 K-State volleyball team overcame a 2-0 set deficit to win as the Wildcats beat Texas Tech, 3-2 (23-25, 17-25, 25-23, 30-28, 15-7), on Saturday in Ahearn Field House.
The Wildcats (20-3, 7-2 Big 12) flipped the script coming out of the intermission, led by a career day from redshirt senior Chelsea Keating. The outside hitter recorded her fourth double-double of the season with career-highs in kills (17) and digs (22) while also hitting .429. Of her 17 kills, 13 were registered over the final three sets with a .632 attack percentage (13k-1e-19att).
As a team, K-State had 51 kills and hit .358 after the second, compared to the Wildcats' 26 kills and .173 attack percentage through the first two sets. Meanwhile, Texas Tech (15-7, 3-7 Big 12) had 32 of its 69 kills in sets one and two while it hit .191 after the second, including .000 (5k-5e-21att) in the match-deciding fifth.
"We came out in game three and just said let's try to get better as we go, and we did," said K-State head coach Suzie Fritz. "We sided out in the high 60s (69%, 67%) in the next two games, hit over .300 in the next three games, and that's who we need to be. We just have to put it together a little earlier."
Along with Keating, three other Wildcats reached double figures in kills, led by 22—on a .310 hitting percentage—from freshman Kylee Zumach. The outside hitter now has 312 kills on the season, making her just the sixth Wildcat freshman in program history to have 300 kills in a campaign (Last: Kaitlynn Pelger, 2010).
Redshirt sophomore Katie Reininger had 12 kills, along with a team-high seven blocks, while freshman Bryna Vogel established a career-best with 10 kills on a .500 clip.
"Everyone comes into practice, trying to get better and trying to help the team," said Keating, "but it's nice knowing if you are having an off day, there is someone there to help you out. Bryna did that today. She stepped up and did really well."
The Wildcats never trailed in the third, winning the set and beginning their comeback, but in the fourth, K-State was up against match point three times before rallying for an extra-point victory. The Wildcats, who trailed for much of the fourth before tying it up at 20-all on a kill by Katie Brand, faced Texas Tech's first match point at 24-23. A kill by Keating from the back row tied it up, but the Red Raiders quickly went up 25-24 on a kill by Breeann David. Keating once again answered with a kill to knot it up at 25-25, and, with the score at 26-25 Texas Tech, Keating paired up with Reininger for a block to even it at 26-26. Reininger followed with a kill to give K-State its first set point of the fourth, but it would take two more tries before a solo block by Natali Jones gave the Wildcats the set.
In the fifth, K-State never looked back after it scored the first two points. The Wildcats had only one attack error in the final set while they had three of their 14 blocks in the match during the fifth.
"Clearly, we weren't going hard enough early," said Fritz about the first two sets. "The mindset changed to that we needed to find that resiliency, fight for more points…we said let's try to go hard first and then we can go from there."
K-State improved to 5-1 on the season in five-set matches and has won 16 of their last 17 dating back to 2011.
Texas Tech's Jenna Allen had a match-high 25 kills on a .426 hitting percentage. She had 10 kills on an errorless 17 attempts (.588) in the first two sets to help Texas Tech grab the early 2-0 lead in the match.
The Wildcats will now compete in back-to-back road matches as they first head to Ames, Iowa to take on Iowa State on Wednesday, November 5 at 6:30 p.m.