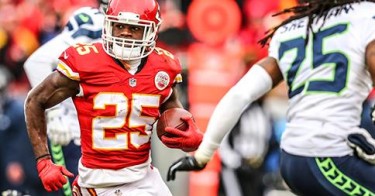 KANSAS CITY, Mo. (AP) — The old offensive line coach in Andy Reid could appreciate the way the Kansas City Chiefs pried open holes for Jamaal Charles to run free against Seattle on Sunday.
He could appreciate the way their defensive front stepped up, too.
Given a lead thanks largely to the legs of their dazzling running back, the Chiefs held the Seahawks on fourth down three times in the final quarter. The result was a tense 24-20 victory that pushed Kansas City into a first-place tie with the Denver Broncos in the AFC West.
"We're sitting there with three fourth-down plays late in the game," Reid said, "and they stepped up and did a phenomenal job there getting off the field."
As for Charles, who finished with 159 yards and two touchdowns?
"He's Jamaal Charles," Reid said. "He's a special player."
Russell Wilson threw for 178 yards and two TDs for the Seahawks, and Marshawn Lynch had 124 yards rushing. But Lynch, fresh off a four-touchdown game, was stuffed twice by the Kansas City defense with the outcome hanging in the balance.
The Seahawks' last-chance drive ended when Wilson threw incomplete on fourth-and-18 at their 20-yard line with 1:13 left.
"They had a great defense," Wilson said. "They just made a great play."
The Chiefs' first fourth-down stop came with about 6 minutes to go. Lynch was tackled after a 2-yard gain on third down, and coach Pete Carroll elected to gamble at the Chiefs 2. Wilson saw Doug Baldwin in the corner of the end zone but badly overthrew him.
Seattle (6-4) held to get the ball back and appeared to convert a third down with a completion at the Chiefs 35. Reid wisely challenged the spot, though, and replays showed wide receiver Jermaine Kearse was a full yard short. The Seahawks again went for it, and Lynch was stuffed for no gain with less than 4 minutes to go.
By the time the Seahawks got the ball back one last time, they were pinned so deep in their own territory with such little time on the clock that it hardly mattered.
Lynch left without speaking to reporters.
"Every game we've lost this season it seems like it's come down to the last play, whether it's defense or offense," Seattle defensive end Michael Bennett said. "That's the name of the game."
It made sense the two playoff contenders would wage an old-school, back-and-forth affair. Both are built in the same mold, featuring stout defenses and strong running games.
Kansas City struck first with a relentless 15-play drive that took up more than 9 minutes of the first half and ended with Charles' 1-yard touchdown run. Seattle answered with its own 16-play drive, chewing up exactly 9 minutes and ending with Wilson's TD pass to Baldwin.
Nothing really changed the rest of the half.
Charles broke two long runs on the Chiefs' next possession, including a 16-yard touchdown. Lynch came back with a punishing series of carries to help set up a field goal.
The Chiefs overcame two fumbles that led to Seattle scores. Travis Kelce lost the ball near midfield late in the first half, and the Seahawks capitalized with a field goal.
Then Charles was fighting for extra yardage again near midfield in the third quarter when he was stripped of the ball.
"I was doing too much," Charles said. "I just lost it as I was going down."
Five plays later, Wilson hit tight end Tony Moeaki — who spent most of his first four injury-plagued seasons with Kansas City — with a short touchdown toss for a 20-17 lead.
Once again turning to Charles, the Chiefs answered. The elusive running back put a nifty juke on Earl Thomas and scampered 47 yards before getting pushed out of bounds. Gassed, Charles watched as Knile Davis capped the drive to give the Chiefs a 24-20 lead.
Then he watched his defense make it stick.
"It was a heartbreaking loss," Wilson said. "We thought we could have or should have won it."