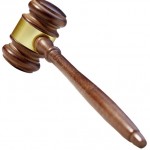 The Kansas Court of Appeals has reversed a Riley County District court judgement in a controversial sentencing involving an involuntary manslaughter case. The Miles Theurer June 2013 sentence of 60 days of jail time and 36 months of house arrest has been vacated,and the case is to go back to district court for re-sentencing.
The Riley County Attorney's office filed a notice of appeal almost immediately after the sentence was announced by Judge John Bosch,  indicating Theurer's conviction carried a presumption of incarceration in a state prison of 38-43 months.
In a 48 page opinion released Friday, the higher court holds the sentencing court erred by applying an incorrect legal standard in sentencing, by relying on departure reasons which were not substantial and compelling,and by making findings of mitigating factors not supported by substantial competent evidence. And the opinion goes on to say, given the nature of the crimes committed, Theurer's aggravated culpability in the deaths of two innocent people and resulting harm to their families, the court's departure factors did not force the sentencing court to abandon the status quo of presumptive imprisonment in order to justify granting Theurer dispositional departure sentences of probation.
Theurer pled no contest to the involuntary manslaughter of Michael Stanley and Elizabeth Young of Ogden in a May 2012 head-on collision on K-18, while driving under the influence.  Judge Bosch had said at the time of the sentencing he believed Theurer's case was atypical and deserving of a downward departure, with a total lack of criminal history and evidence of Theurer's academic prowess. After the verdict, several family members of the victim were visibly distraught with one member having an angry outburst outside the courtroom when court adjourned.