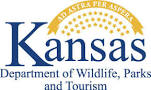 An investigation into last weekend's water rescue at Tuttle Creek Lake has been concluded by the Kansas Department of Wildlife, Parks, and Tourism. Director of Information Services Ron Kaufman says the case is being regarded as an accident, with Clark Linders on his airboat in the narrow upper part of the cove where there are lots of trees.
Kaufman says Linders glanced down for a moment and when he looked up he was heading toward a tree. He tried to turn quickly but the side of the hull struck the tree, throwing him into the water.
A spokeswoman at Stormont Vail indicates Linders has been discharged from the hospital. He was taken there from Mercy Regional Health Center, reportedly suffering from hypothermia.