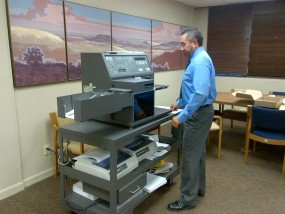 Votes were counted and publicized during last week's general election, but the results are never truly official until the canvass.  The Riley County 2014 general election canvass was held during Monday's county commission meeting.
County Clerk, Rich Vargo provided some comments about this year's voter turnout.  Although turnout seemed high, Riley County's transit community contributes to a low percentage of voter turnout for the county.
When beginning the canvassing process, Election Supervisor, Jolene Keck went through each polling location and shared the number of:  votes, provisional ballots, accepted ballots and partially accepted ballots. Vargo explained, ballots are classified as "provisional" when someone votes who is not registered or when someone does not present a valid ID.  Ballots are partially submitted when an individual tries to vote at the wrong polling location. There was a total of 770 provisional ballots during this year's election, which Vargo said is a high amount for this type of election.
Vargo put the 380 paper ballots through an election canvassing machine (as pictured above) to make them official.
The commission did approve the election results unanimously.
————-
County offices will be closed Tuesday for Veteran's Day.  Also, the county commission will not be meeting on Thursday, due to the Kansas Association of Counties conference in Wichita.  All three commissioners will be attending that event.