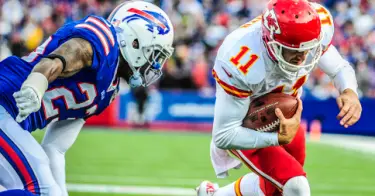 ORCHARD PARK, N.Y.(AP) — Alex Smith and the Kansas City Chiefs didn't flinch in the face of adversity.
For Leodis McKelvin and the Buffalo Bills, they endured a familiar late-game meltdown for a franchise that has had little go its way during a 14-season playoff drought — the NFL's longest active streak.
Smith, on an 8-yard run, and Jamaal Charles, on a 39-yard scamper on fourth-and-1, scored less than five minutes apart as the Chiefs overcame a 10-point fourth-quarter deficit to pull out a 17-13 win over the bumbling Bills on Sunday.
The Bills just can't get it right in the red zone. And that's why they suffered their fourth loss instead of earning their sixth win, Mike Rodak writes. Story
"I think there is something to winning these types of games," Smith said. "There's a different type of confidence you get when you win games like this."
The Chiefs (6-3) came out on top in a key midseason AFC showdown by improving to 6-1 in their past seven games.
It was a different mood altogether in Buffalo's locker room after the Bills (5-4) unraveled coming out of their bye week. McKelvin had difficulty containing his anger in issuing a series of profanity-laced answers in discussing how his fumble helped cost Buffalo the game.
"I take this … to heart," McKelvin said. "I fumbled the ball. It hurt us. But we still had a chance to come back and win the game. (Stuff) happens in the game. But you've still got to overcome it."
The outcome turned early in the fourth quarter with Buffalo clinging to a 13-10 lead.
The Bills' defense forced a three-and-out, forcing the Chiefs to punt out of their own end zone.
McKelvin fielded Dustin Colquitt's punt cleanly at his own 31 and took a few steps to his right. That's when he was hit by Albert Wilson. Anthony Sherman then knocked the ball loose and recovered the fumble at the Bills' 26.
Two plays later, Smith faked a handoff to the right to Charles and then took off left for the go-ahead score with nearly nine minutes left.
"There's going to be games like this where everything is not pretty and you have to play through it, and there's a certain toughness that it takes," Chiefs coach Andy Reid said. "And our guys showed that today."
The Chiefs' defense showed that in ending any chances of Buffalo manufacturing a comeback after McKelvin's 23-yard punt return gave the Bills the ball at Kansas City's 25 with 4:35 remaining.
The drive stalled at the 15, when Kyle Orton threw four consecutive incompletions, including an underthrown attempt to Sammy Watkins at the 1 on fourth down. Defensive back Ron Parker knocked down three Orton attempts, while another sailed through the end zone past Chris Hogan.
Orton went 29-of-48 for 259 yards, including a 25-yard touchdown to Hogan. Marcell Dareus had three of Buffalo's six sacks.
Very little went right for the Bills' offense after Orton hit Hogan for a 25-yard touchdown to cap the opening drive. Buffalo then managed two field goals, lost a fumble and turned the ball over on downs in four trips inside the Chiefs' 20.
The lost fumble was crucial in opening the second half. Running back Bryce Brown was three steps from the end zone when he had the ball punched out of his hands by Parker. The ball bounced into the end zone, where tight end Scott Chandler had it go off his fingers and out for a touchback.
"It's disappointing, it's frustrating, all those words," Chandler said. "I don't know what to say about it. We've got to be better."
Things don't get any easier for the Bills, who had a two-game win streak snapped and fell to 2-4 against conference rivals. They face a key test in a short week — at division rival Miami on Thursday night.
This marked the fourth time during their playoff drought the Bills lost after compiling a 5-3 record. Buffalo hasn't had six or more wins through nine games since 1999, the last time it made the playoffs.
The Chiefs, who opened last season at 9-0, find themselves on another roll and in the thick of a jumbled AFC playoff race.
"It's just crazy how the NFL is going this year," offensive tackle Eric Fisher said. "It was a huge AFC game for us. Getting that win, being 6-3, that sounds pretty good."
Charles finished with 98 yards rushing, Smith went 17-of-29 for 177 yards and Dwayne Bowe had eight catches for 93 yards.