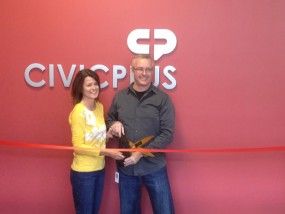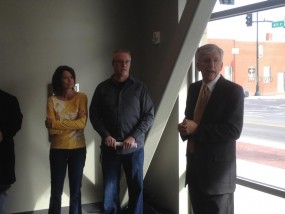 While it's been open for more than a month, CivicPlus's official ribbon cutting was held Wednesday morning in its prominent downtown location…
CEO Ward Morgan tells KMAN he has no regrets when it comes to the large structure on South Fourth Street. In fact "ecstatic" is the word used by Morgan, with the completion of the company's new building on South Fourth Street. Morgan says all employees seem pleased with the new workplace and feel they're much more productive.
Morgan adds CivcPlus has become known for its website work, with up to 1800 cities and counties which are customers, and hopes to add 300 or 400 new customers in 2015. Clients are located across the United States, Canada, and Australia.
CivcReady is another division, which focuses on emergency management.