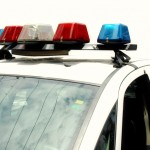 A Clay County woman was arrested on Friday afternoon in connection with a hit and run accident earlier in the day that killed a Clay Center man.
According to a news release from the Clay County Sheriff's Department, 83-year old Joe Knitter of Clay Center had gotten out of a vehicle in which he was a passenger to check on a deer struck by a vehicle his wife was driving on U.S. Highway 24 approximately one half mile east of Clay Center at around 6:20 a.m. Friday. When Knitter was crossing Highway 24 from north to south after looking for the deer when he was struck by another vehicle which failed to stop. Knitter was pronounced dead at the scene.
At about 2:30 p.m. Friday, Clay County Sheriff Chuck Dunn announced that Rene Urbano a Clay County resident was charged with Accident involving Death, failure to report and accident and driving with a suspended license. Urbano was held on an unknown amount of bond at the Clay County Jail.