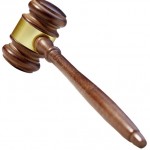 Updated 3:30 p.m. Tuesday by Cathy Dawes:
The defense attorneys in the Howard Barrett second degree murder trial in Riley County District Court began calling witnesses Tuesday afternoon.
Leonardville State Bank Executive Vice President Anita Bassett was the first witness called by the defense, and talked about the approximate four years she had known Barrett, whose apartment was near their bank. She described him as different, recounting his allegations he was with the Kansas Highway Patrol and had been a child opera star the first time she met him. Bassett also recounted Barrett later being mad at the Highway Patrol, with concerns they might come and get him. She also talked about Barrett throwing rocks at people and other unusual or inappropriate behavior. And she mentioned complaints about his frequent washing of his car at the city's park, loud music he'd play, and disruptive behavior when he'd visit the library and city office, where he reportedly demanded light bulbs and toilet paper. She also referred to his belief there were "Japs in the pasture."
Psychologist Deborah McCoy, who had seen Barrett shortly after the February 2008 stabbing of Thomas James, described him as disorganized with tangential thoughts. She indicated she saw no signs of malingering or "faking" his mental problems but also said she saw no signs of hallucinations, with immediate memory intact.  However she said she was not able to access short or long term memories.
Clinical Psychologist William Albott of Topeka also took the stand and shared his background dating back to the 1960's, especially regarding schizophrenia and how it interferes with daily life and a person's perception of reality. When cross-examined by County Attorney Barry Wilkerson he conceded a schizophrenic may have some motivation and may intend to to start something, but a lot of tasks don't get finished. There were also questions about the knife used and Barrett's allegation of defending himself–with James obviously not a hallucination.
The trial will resume Wednesday morning.
###
Morning coverage by Laura Monsanto:
The last few prosecuting witnesses were called to the stand during day two of the five day jury trial for Howard Barrett (58) on Tuesday.
Barrett is charged in connection with the stabbing incident, that occurred on February 14th of 2008, where Thomas James (48), of Clay Center, was found deceased.
Kansas Bureau of Investigations (KBI) Forensic Biologist, Lance Antle was first to take the stand.  Antle performed the DNA analysis from the blood found on the knife.  He confirmed that the blood found matched the swab from James.  He also stated there is a one in quintillion chance the DNA could match another human in the world, and there are only 7.2 billion people currently in existence.
Defense Attorney, Mark Dinkel asked about how the number is calculated to get the "one in quintillion" figure.  He also referenced a case from years ago where there were some labeling errors at the KBI.
Deputy Coroner and Forensic Pathologist, Dr. Donald Pojman was questioned next.  Dr. Pojman performed James's autopsy on February 15th, 2008.  He stated he found five "sharp force injuries" on James's body.
Although Dr. Pojman stated James more thank likely died as a result of the stab wounds on the right side of his chest, Dinkel asked if these injuries could have been survivable.  Dr. Pojman said they could have been survivable depending on how quickly the person would have received medical treatment.
This was the last witness called to the stand from the prosecuting side.  The defense will have the chance to begin calling witnesses to the stand at 1 p.m.