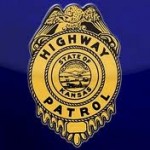 According to Kansas Highway Patrol reports an early Sunday morning crash on I-70 mile-marker 301 westbound or 2 miles west of K18 resulted in four people being taken to Geary County Hospital.
KHP authorities indicate a Chevrolet Heritage High Roof, or HHR, driven by Randy Irvin of Kansas City was involved with an accident that involved a Subaru Impreza driven by Tristan Alexander of Colorado Springs, Colorado.  Emergency personnel evacuated Randy and Damon Irvin to the Geary Community Hospital.  Tristan and Alyssa Alexander were also listed as injured in the incident, and taken to the same facility.  Another passenger in Irvin's vehicle sustained no injuries.
KHP continues to investigate the accident, which was reported shortly before one a.m. Sunday.
###
A Saturday accident in Geary County sent one person to the hospital. 57 year old Walter Wright of Junction City was driving a 2001 Isuzu Rodeo westbound on I-70 about a half mile east of Grandview Plaza, when he lost control on a bridge over K-57, struck the inside wall, entered the median, crossed the highway, and entered the right ditch.
Wright was taken to Geary Community Hospital. The accident was reported shortly after nine a.m. Saturday. Wright was wearing a seat belt.