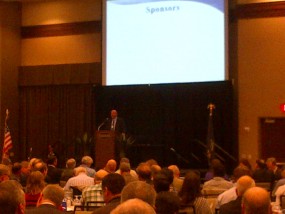 Over a year after Governor, Sam Brownback issued his call to action to develop a vision for the state of Kansas's water supply, the second draft has been completed.  Brownback spoke about the 80 page draft during Wednesday's conference on the future of the water in Kansas, at the Hilton Garden Inn.
Brownback summarized the entire process, and spoke about the future.  He commented, "we are going to fight tooth and toenail against federal control over our water.  Water is a state and local issue, it's not a federal issue."
Previous Kansas governors have attempted to address this water issue, and Brownback was asked why this attempt seems different than the rest.  "It's more acute now. You've got many more people ready to deal with it than in the past.  Conversations have been much more intense and focused."
Over 650 attendees were present for Wednesday's conference, which continued on Thursday with four breakout sessions.