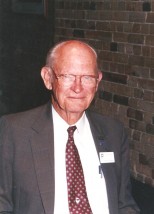 A Kansas State University alumnus and one of the leaders of the Green Revolution will receive an honorary doctorate from Kansas State University.
Wayne Freeman will be honored at the university's Graduate School commencement at 1 p.m. Friday, Dec. 12, in Bramlage Coliseum. He also will serve as the commencement speaker at the ceremony.
The awarding of the honorary doctorate follows the approval by the Kansas Board of Regents. It is one of the highest honors the university can give. Freeman will be awarded an honorary Doctor of Philosophy and also will receive a medal.
"Wayne Freeman is one of our nation's foremost agricultural leaders and we are honoring him for his distinguished career," said Kirk Schulz, Kansas State University president. "His work as a seed breeder and scientist has helped to feed people across the globe and improved lives. It is through the leadership of such distinguished alumni that we will become a Top 50 public research university by 2025."
"Dr. Freeman has committed his entire life, professional and private, to increasing the production, nutritional quality and availability of food for people in need all over the world," said April Mason, provost and senior vice president.  "He exemplifies a true citizen of the world." 


Freeman received his bachelor's degree in agronomy from Kansas State University in 1938. He earned his master's and doctoral degrees from the University of Illinois.
Freeman is recognized in the international agriculture research community as one of the unsung heroes of the Green Revolution, which dramatically improved the lives of hundreds of millions of poor people around the world.
Freeman started his career as a corn breeder with the Mississippi Agricultural Experiment Station and the U.S. Department of Agriculture Research Center in Tifton, Georgia. There he helped develop Dixie 18, the first public yellow corn hybrid adapted to the lower Southern Corn Belt.
In 1961, Freeman moved to India as a seed specialist for the Rockefeller Foundation. In 1966, he was promoted to joint coordinator of the All India Coordinated Rice Improvement Project that introduced high-yield plant varieties to farmers and increased India's rice production exponentially. He also helped create a variety evaluation and seed distribution system suitable for developing countries. The system has been used as a model for nearly all of the international crop germplasm exchange programs conducted since the 1970s. Before returning to the United States, Freeman and his wife moved to Nepal where he led research on rice, wheat, corn and cropping systems.
Freeman is a board member of the Barwale Foundation and has served as a consultant and member of the board of directors for the Mahyco Foundation, a nonprofit organization that does research to improve seed productivity in India. He received Kansas State University's Distinguished Service Award for Agriculture in 1975 and university's Alumni Medallion Award in 2004.
In 2010, Freeman published a book, in collaboration with the Barwale Foundation, called "Seeds of Changes: Growth of the Indian Seed Industry, 1961 and Beyond."