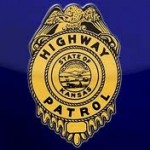 Updated 5:30 a.m. Thursday:
A 57-year-old Manhattan man was injured in an accident in the 68-hundred block of Anderson Avenue, about eight miles west of Manhattan, shortly after nine Wednesday night. The accident resulted in the closing of that stretch of road for about three hours.
Michael Perry was taken to the University of Kansas Hospital by Life Star following the accident.
According to the Kansas Highway Patrol, Perry was driving a 2008 Ford F-350 westbound on Anderson Avenue when the vehicle drifted across double yellow lines into a south ditch and then vaulted over a creek bed and struck a large tree. The truck came to rest on the passenger side, facing south. Perry was wearing a seat belt.
Riley County Fire Chief Pat Collins indicates his agency had 21 crew members there and Manhattan Fire had 10. Riley County EMS was also present.
###
The 6800 Block of Anderson Avenue has been shut down for an injury accident. The accident was reported at about 9:40 p.m. Wednesday via IRIS alert. Further details are not yet available.