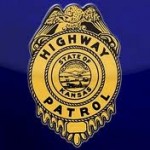 A 77-year-old Blue Rapids woman was taken to the hospital following a one vehicle accident in northern Riley County early Wednesday afternoon.
According to the Kansas Highway Patrol, Pansy Randolph was injured when the 2006 Cadillac DTS passenger car she was driving was northbound on highway 77, went left of center and left the roadway, entering the west ditch and striking a guard rail. The vehicle overturned and came to rest on the passenger side.
The accident occurred at 12:15 p.m. about a half mile south of Randolph. Pansy Randolph was wearing a seat belt.
A Mercy Regional Health Center spokesman did not have a record for Randolph being there.