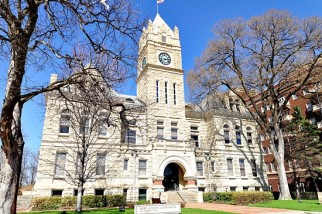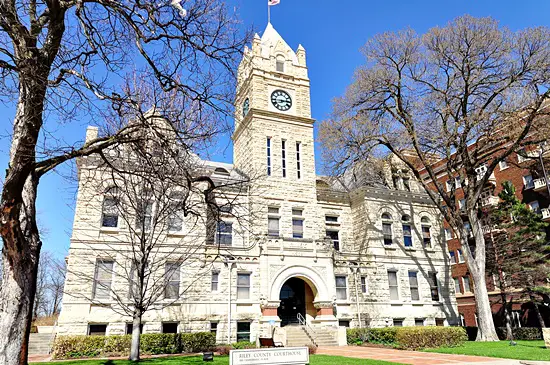 Updated 7:50 p.m. Wednesday by KMAN Staff: The jury reached a verdict late Wednesday and Howard Barrett was found guilty of Reckless Second Degree Murder.
###
Updated 3 p.m. Wednesday by Cathy Dawes:  Final arguments have been presented by the State and Defense attorneys and the jury is now in deliberations .
Riley County Attorney Barry Wilkerson told the jury while Howard Barrett suffered from schizophrenia he wasn't hallucinating at the time the fatal stabbing occurred. He reminded the jurors that Barrett went to a closet and picked the biggest knife he had which would do the most harm. Wilkerson added it was "not random" and that Barrett knew he was attacking  exterminator Thomas James and stabbing him in the chest.
Defense Attorney Mark Dinkel led his final argument by saying "Not right in the head" as one reference describing the defendant. He told jurors no one knows if he might have been hallucinating and indicated Barrett with his schizophrenia was operating under a different reality. He submitted to the jury that the State and cumulative evidence has not proven beyond a reasonable doubt  and asked for a verdict of not guilty, referring to a lack of mental capacity.
Wilkerson concluded his final arguments following the Defense, questioning "Ask yourself what is intent?" He described stab wounds to another human being as intent.
******************************************************************************************************
Original Wednesday report: The presentation of evidence was concluded Wednesday morning, in the Howard Barrett jury trial, in Riley County District Court.
Barrett (58) is charged in the stabbing death of  Thomas James (48).  The incident occurred on February 14th of 2008, and is just now being brought before the court because Barrett has been found incompetent to withstand trial in previous years.
Dr. William Logan was called to the stand, as he was hired to evaluate Barrett's mental state.  Dr. Logan had a face-to-face conversation for two and a half hours with Barrett in June of this year, but has had conversations with Barrett in previous years as well.  In Logan's opinion-Barrett suffers from schizophrenia.  Barrett also has not been taking his medication and has been without treatment for months.
Barrett's Attorney, Mark Dinkel asked Dr. Logan a few questions about other repercussions of schizophrenia.  Personal hygiene tends to suffer with schizophrenic people, according to Logan, so the fact that Barrett barely had any furniture in his residence and slept in a reclined lawn chair was not shocking.
Logan also indicated Barrett could have committed this act because of his paranoia, which is also a symptom of schizophrenia.
This completed the presentation of evidence in the case.  The jury will return at 1:00 p.m. for further instruction and they will then begin deliberation.