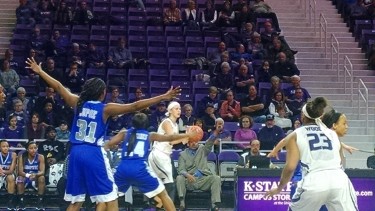 Breanna Lewis scored 13 points and Haley Texada added 11 as the Kansas State Women's Basketball team won their final game before their first road trip of the season defeating Hampton 66-46 Friday night at Bramlage Coliseum.
The Wildcats got off to a fast start in this game leading 11-5 with 16:55 left in the first half thanks to a trio of three-point baskets and a layup by Texada. Another 10-0 run made the score 21-5 after a Shaelyn Martin three-pointer capped it off at the 14:22 mark. The Lady Pirates however began to fight their way back into the game closing to within 27-18 with 2:57 left in the first half thanks to a 13-6 surge. However, the Wildcats closed out the first half outscoring Hampton 5-2 to lead 32-20 at intermission.
In the second half, K-State kept up the momentum against the smaller Lady Pirates starting off with a 17-4 run to lead 49-24 with 13:49 left on the clock. From there, the Wildcats despite some inconsistent shooting were able to cruise to their third straight win to start the season.
In addition to the 24 comnbined points by Lewis and Texada, also contributing to the Wildcats winning effort were Kindred Wesemann and Bri Craig with nine points each and six points apiece by Erica Young and Martin. In a game where only 31 total fouls were called the two teams combined to attempt just 21 free throws and one point of concern for Coach Jeff Mittie after the game was the fact that K-State made only four of their 11 attempts from the charity stripe.
Kansas State (3-0) will now travel to Puerta Vallarta, Mexico for the Hardwood for Hope Tournament which begins Tuesday as K-State will face UTEP followed by Santa Clara and LSU on consecutive days. Tipoff each day from Tuesday through Thursday will be at 5 p.m.
Stay connected to all things KSU on the go just text EMAW to 88474
For full video wrap-ups, including analysis, highlights, coaches & player interviews of K-State Football & Basketball check out PowerCatGameday.com