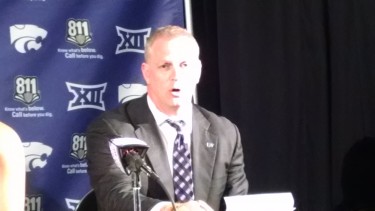 Breanna Lewis scored 13 points and Ashley Jones and Ashia Woods scored 11 apiece as the Kansas State Women's Basketball team won its first game under new head coach Jeff Mittie 81-55 over Southern Illinois-Edwardsville before an announced crowd of 3,925 Friday night at Bramlage Coliseum.
The Wildcats jumped out to a fast 11-2 lead on a layup by Kindred Wesemann who scored seven of her nine total points in the game's first six minutes. The Wildcats would widen the lead to as many as 15 points at 31-16 with 4:28 left in the first half on a layup by Woods. That lead would remain at 15 points as K-State enjoyed a 39-24 advantage at intermission.
Considering that many teams can be sluggish on Opening Night, Kansas State seemed to get stronger in the second half as the lead swelled to 44-24 on a Woods three-pointer with 18:58 left in the game. However, the Cougars then found a burst of energy as they went on a 12-4 run to close the gap to 48-36 on a three-point basket by Tierry Austin with 16:14 remaining.
Following the media timeout however, K-State ripped off nine straight points dashing any hopes of a Cougar comeback on this night and went on to cruise to the victory.
Also scoring in double figures for Kansas State were Erica Young and Bri Craig with 10 points apiece. Austin led three Cougars in double figures with a game-high 17 points while Shronda Butts had 12 points and Sidney Smith scored 11. The Wildcats despite shooting just 56 percent from the free throw line something Mittie said after the game was a source of concern still received 41 points from their bench players in Friday night's game.
Kansas State (1-0) continues its season-opening three-game homestand on Tuesday night when they host UMKC at Bramlage Coliseum in a 7 p.m. tip-off.
Stay connected to all things KSU on the go just text EMAW to 88474
For full video wrap-ups, including analysis, highlights, coaches & player interviews of K-State Football & Basketball check out PowerCatGameday.com