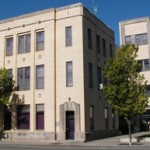 Over the course of several months, Riley County Police officers have responded to numerous calls from Britt's Farm, located off Scenic Drive.  Officers have responded to gunshot calls, underage drinking reports, and battery instances.
RCPD Cpt. Josh Kyle provided the county commission with an update on this matter during their Thursday meeting.
Kyle shared a few stories of previous experiences officers have had at these gatherings.  According to Cpt. Kyle, a beer bottle was thrown at a police car, a man suffered injuries after being beat to the ground and kicked in the head, and gunshots have reportedly been fired.
Officers investigated the large parties, and found that flyers were being distributed in Aggieville and tickets were being sold online.  Once a person purchased a ticket, they could  then be taken to Britt's by a bus that departed from K-State.
An officer's most recent attempt to enter the grounds was unsuccessful, as a truck was blocking off the entrance to the parking lot.
Cpt.Kyle informed the commission, officers have attempted to speak with the Britt's Farm owners and staff members.  
According to him, this has becoming increasingly difficult because many of them have conflicting stories or refuse to speak to officers all together.
RCPD Director, Brad Schoen, who was also in attendance for the meeting, mentioned he has been in contact with Emergency Management Director, Pat Collins and Planning and Special Projects Director, Monty Wedel about the issue.  Collins said he has notified the state Fire Marshall, as hundreds of people are usually in attendance for the parties.
Schoen added, "we're going to stay on this. We need some sort of help though".  Commissioners stated they are willing to offer their support to RCPD and will be willing to help in any way they can.
——————
A few items were approved during Thursday's meeting, including an emergency bridge replacement request.
BG Consultants will be working on the project for $28,620.  The bridge is located on South 32nd street.  The project will be funded out of the half cent sales tax fund.
The commission also approved the purchase of emergency replacement equipment for the 911 system.