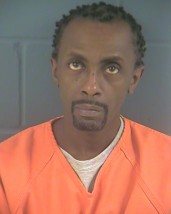 Junction City Police officers responded to a call in September involving a subject who had been shot, and an attempted murder arrest was made Monday in connection with the incident.
The victim of the alleged shooting, in the 800 block of South Washington Street in Junction City, was identified as Angel Gonzales-Cintron (25), who had reported-he had been shot during a disturbance that took place in the parking lot of the Budget Host Motel.
Officers discovered he suffered a superficial wound to his neck area and he declined medical treatment.  At that time, the suspect fled the scene and had not been located.
During the investigation, Jerome Glaspie (43) was identified as a suspect.  Glaspie was located and was arrested for attempted murder and attempted robbery.
He is currently being held at the Geary County Detention Center, and his first court appearance will be on Tuesday.