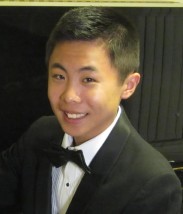 Chi (Barry) Zhang will travel to Fargo, ND, in January to compete as a Division Finalist in the Junior Piano Competition.
Zhang, the son of Tingting Song and Xin Zhang, earned this opportunity after winning the Kansas State MTNA-Junior Piano competition. A 9th grader at Manhattan High School, Zhang has been studying piano for 9 years and is currently a student of Dr. Jack Winerock and Dr. Slawomir Dobrzanski.
Chi (Barry) Zhang, 14, was born in China and lives in Manhattan, Kansas. He's recently placed 2nd in the 2014 Fite Family Young Artist Piano Competition, 1st at the KCMTA-Heritage Philharmonic Concerto Competition which lead to a performance of Mozart Concerto K.488 under the baton of James Murray III. Other awards include 3rd place at the 2014 Kansas City Symphony Young Artist's Concerto Competition and Finalist Prize in the 2014 International Institute for Young Musicians.
The MTNA Junior Piano Competition will take place on Saturday, Jan. 10, 2015, during the MTNA West Central Conference. The winner of this competition will compete in the National Finals during the MTNA National Conference in Las Vegas, Nevada, in March.
The three-tiered MTNA competitions begin at the state level. Winners of each State Competition advance to the division competition. Division winners then proceed to the National Competition Finals.
Music Teachers National Association is a nonprofit organization comprised of 22,000 independent and collegiate music teachers committed to advancing the value of music study and music making to society and to supporting the professionalism of music teachers. Founded in 1876, Music Teachers National Association is the oldest professional music association in the United States.