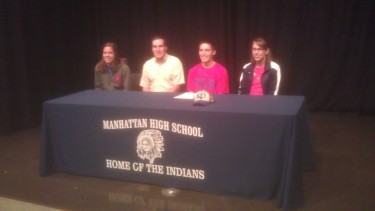 Manhattan High cross country standout Michael Melgares signed his letter of intent with Kansas this morning at MHS.
Melgares will join his brother Chris who signed with the Jayhawks last season. Kansas finished 5th as a team at the Big 12 championships earlier this month.
Melgares finished as the 6A state runner-up to teammate Jackson Schroeder this year and helped lead the Indians to a third place finish as a team. He also medaled at state in 2013 as a part of the Indians state championship team.