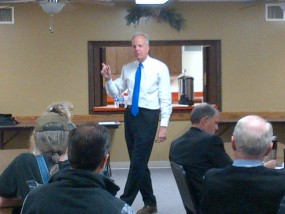 Postal services and military affairs seemed to be the two major topics of discussion during Saturday morning's town hall meeting.  U.S. Senator, Jerry Moran, of Manhattan, visited the Riley Centre in Riley for the town hall meeting.
The event was set up in a question-and-answer format, which allowed many of the residents in attendance to share their concerns.
Moran spoke about the importance of taking local issues to local government entities, instead of taking them straight to Washington D.C.
In reference to the postal services, many local individuals expressed concern about losing their post office all together.  Moran commented on how difficult this issue is, as he also comes from a rural community and most legislators don't understand the concerns rural residents have.  Moran said he would first look into cutting the hours before closing the post offices all together.
Other questions were raised involving health care and the internet.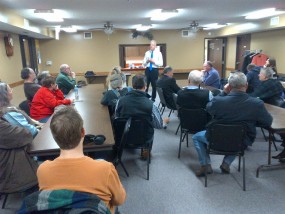 Moran thanked the audience for being in attendance on the cold day, and mentioned he always learns something when visiting with each individual person.