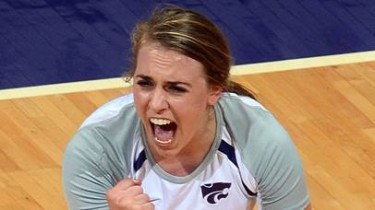 Photo Courtesy Kansas State Athletics
By Chris Kutz, K-State Athletics Communications
WACO, Texas – The No. 23 K-State volleyball team overcame a 2-0 set deficit for the second time this season on Saturday as the Wildcats came back to beat Baylor, 3-2 (22-25, 16-25, 25-18, 25-19, 15-9), in the Ferrell Center on Saturday to snap their three-match losing streak.
The win by the Wildcats (21-6, 8-5 Big 12) avenged their five-set loss to Baylor (14-14, 4-9 Big 12) earlier this season in Manhattan. K-State, which is 22-2 in five-set matches since 2011, improved to 6-1 in five-set contests this season. The five-set win was also K-State's first against Baylor since October 25, 2008.
K-State, which allowed Baylor to hit a combined .319 over the first two sets, held the Bears to a .121 hitting percentage in the final three sets. Meanwhile, the Wildcat offense, which hit .591 in the fifth, finished the match out-hitting Baylor, .225-.205.
"We talked [during the intermission], saying this is not who we are," said K-State head coach Suzie Fritz. "We asked them, 'What are we going to do to work our way back into it?' We made a strong suggestion of coming out on the offensive and firing on all cylinders. Let's make sure, in the end, we don't get outworked.
"Bottom line, we just played significantly better."
Freshman Kylee Zumach led K-State in kills for the second straight match and the fifth time in the last six contests with 14. Redshirt seniors Chelsea Keating (12) and Natali Jones (10, .421 hitting percentage) joined Zumach in double-digit kills.
Keating also had 10 digs to help her tally her fifth double-double this season. Redshirt sophomore Katie Brand, who had 45 assists, 11 digs, eight kills, two aces and two blocks, notched her team-leading 17th double-double.
Redshirt sophomore Sheridan Zarda had a career-high 28 digs to help the Wildcats out-dig the Bears, 73-67.
"I was exceptionally proud of the way Dallas [Gardner, 8 digs] came in and contributed, in a new role," added Fritz. "I was also proud of Gina [Madonia, 4 digs, 1 ace] and Sheridan, who stepped into the [libero]role for us. Those three did a tremendous job of handling balls and keeping us in it."
K-State jumped out to an early advantage in the first, keyed by two kills from Brand, but Baylor erased the Wildcat advantage when it took a 6-5 lead on a K-State attack error. Back-to-back kills by the Wildcats, one from Keating and the other by Jones, gave the lead back to K-State. Baylor, however, later went on a 4-0 run to open up a 13-9 lead – a lead they did not relinquish. The Wildcats did tie it up at 16-all, but Baylor scored five straight points to take its largest lead of the set, 21-16.
The Wildcats never led in the second as they burned the second of their two timeouts when Baylor took a 10-4 lead. The K-State deficit swelled to 15-6 after the Bears recorded three consecutive kills, and the Wildcats were unable to close the gap any closer than seven after it trailed by as much as 10 at 17-7.
K-State came out firing in the third, ignited by two aces from Zarda in the early going. After a cross-court attempt by Keating was wide, the Wildcats recovered by firing off three straight points, with two via kills by Zumach and Jones. Baylor answered, though, leading by as much as three at 14-11 before the Wildcats went on a 7-1 run. K-State had both of its third-set blocks over the burst as the Wildcats held Baylor to a .119 hitting percentage in the third – after the Bears hit .393 in the second.
In the fourth, K-State held Baylor to a .098 hitting percentage with 21 digs and three blocks. The Wildcats led the entire set as well, taking an 11-4 lead after a kill by Jones, who had four in the set, was followed by one of Baylor's four unforced attack errors during the fourth. The Bears clawed back, though, pulling within two, but K-State fought off Baylor with a 4-1 run that helped it open up a 16-11 lead. After the five-point advantage, K-State did not allow Baylor to come any closer than four points.
K-State pulled away from the Bears in the fifth when the two sides were tied at 5-5. A pair of kills by Brooke Sassin sandwiched a kill from Keating that allowed the Wildcats to take an 8-5 lead. The three-point advantage was enough as K-State closed out the match scoring four of the final five points, capped by a combo block by Jones and Keating.
The win was extra satisfying for K-State which took a 2-0 lead on Baylor in their September 27 match at Ahearn Field House only to see the Lady Bears rally for the victory.
The Wildcats will enter their final midweek bye of the regular season this week before returning to action on Saturday, November 22 against TCU in Ahearn Field House. First serve is set for 7 pm.