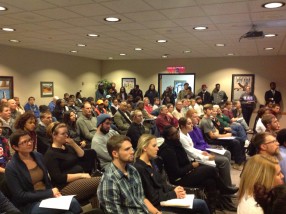 It was standing room only on Tuesday night at the Kansas State Student Union as a first of its kind panel formed to tackle the issue of law enforcement's use of racial profiling with a panel sponsored by the K-State Black Student Union.
The panel consisted of Riley County Police Director Bradley Schoen, Philosophy professor John Exdell, Riley county Police Department Community Advisory Board chair Corey Leavell, Assistant director of the office of Institutional Equity and Community Advisory board member Michelle White-Godinet, nad Anthropology professor Jeremy Briggs.  The panel used a recent study released by the American Civil Liberties Union on arrest rates for African-Americans versus Caucasian in regards to marijuana infractions. The study  showed a significantly larger amount of African-Americans were incarcerated when compared to Caucasians.
Director Schoen admitted there was a perceived issue, but pointed out the departments history of in-depth training and tactics to help mitigate discrimination within the police force.  However, many in the audience expressed frustration with the departments handling of arrests.  Leavell urged those who had issues with the department to bring it to his board's attention so they could review the case, and help bridge the gap between law enforcement and the community.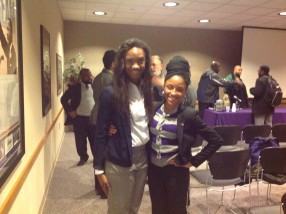 Dr. Briggs said there is a fundamental dis-junction between the perception of law enforcement, and the reality of the situation in regards to the issue.  However, Briggs did applaud the conversation started on Tuesday night.  Furthermore, Briggs expressed interest in helping leverage his expertise to help the Riley County Police Department develop a solution, and a deeper engagement, with the community to bring about change to the system.
Director Schoen expressed his gratitude to the K-State Black Student Union for beginning the conversation, and says the impact of the meeting will be felt as the department moves on and forges new alliances to work on the issue.  In fact Schoen says contacts made during the meeting would help facilitate the process.