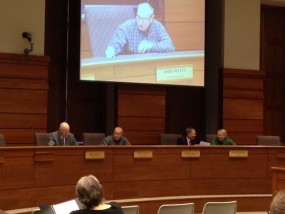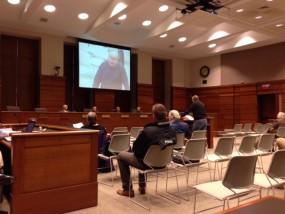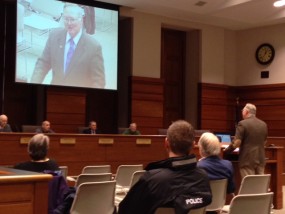 The Riley County Police Department will have to dip into its emergency reserve fund by early next year, with unexpected IT requirements impacting the budget. As suggested by Riley County Police Director Brad Schoen, Riley County Law Board members finally approved spending up to $150,000 on the IT upgrades out of the emergency fund, but not without some concerns–such as from Law Board member Wynn Butler.
The  IT upgrades are required by mid-January. While the vote ended up being unanimous among the small quorom of four board members, Butler asked as he has in the past about consolidation among governmental groups on IT matters. Schoen said while sympathetic to Butler's position, adding it made sense on the surface, he said they'd looked into consolidation at least twice and found it would actually be more costly to go that direction.
RCPD legal cousel Mike Gillespie indicated the item could be considered an emergency, as there would be a budget shortfall due to the needed changes–and there's next to nothing RCPD can do about it.
The National Bio and Agri-Defense Facility in Manhattan seems to be coming even closer to reality, with the matter discussed briefly by Riley County Law Board members Monday. A meeting last week involved the Riley County Police Department's role in routine matters at the facility until the Department of Homeland Security has its own law enforcement staffing in 2019 or 2020.
 Schoen says DHS has been working with other local emergency groups on similar memorandums of understanding.
Another matter before law board members Monday dealt with a substance abuse program at the Riley County jail, which Schoen gave kudos to the jail staff for. And Board Members heard good news regarding Health Insurance, with usage rates down this past year.
 Riley County Law Board members heard both negative and positive messages from members of the public Monday. Riley County resident Roger Seymour had several concerns, including damage cases he'd experienced as a landlord and the loss of a tractor case he didn't feel were treated as crimes. Seymour also questioned RCPD officers' knowledge of state law when it comes to landlords and tenants. Gillespie indicated he'd look into the law and perhaps it could be incorporated into training for officers–a report is planned at a later law board meeting.
Seymour also mentioned the law enforcement shooting range on land owned by his brother and  currently leased to RCPD–saying his brother is still willing to work with RCPD but with a new agreement.
Another member of the public had kind words for RCPD, with John Ball telling law board members he's trying to get a supportive group together, in the wake of critical media coverage of police in the recent Ferguson, Missouri incident. Ball has also presented to the Community Advisory Board, and while supportive– RCPD Director Brad Schoen stressed it's a grass roots type of community effort.