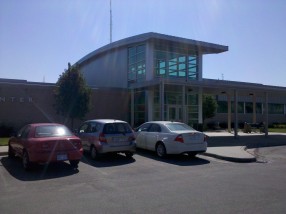 A Manhattan man is being treated at a Kansas City Hospital following a collision involving a motorcycle and three vehicles near the intersection of Claflin Road and University Drive shortly after 2:30 Wednesday afternoon.   Benjamin Giguere, 23, was taken to the University of Kansas Hospital following the accident, involving his  2014 Kawasaki motorcycle.
Police say the cycle was traveling west on Claflin Road when Giguere lost control,  then struck a 2001 Buick Century driven by Katherine Kramer, 21, of Manhattan. The motorcycle also struck a 2011 Chevy Cruze driven by Christine Lenz, 21, of Manhattan and a 2000 Chevy Silverado driven by Cameron Uphoff, 21, also of Manhattan.
Giguere was transported to Mercy Regional Health Center and eventually life-flighted for treatment at the University of Kansas Hospital. This collision is currently under investigation and no citations had been issued at the time of the report.
###
Riley County Police arrested a 22-year-old Fort Riley man on a rape charge Wednesday afternoon. Sean Wedgwood was taken into custody at approximately 12:20 PM. The rape warrant originated in Riley County after an incident occurring in August of this year. Wedgwood was arrested in the 200 block of Custer at Fort Riley and transported to the Riley County Jail, with a bond of $20,000.
Police also arrested Evelyn Pittman, 25, of Ogden at the Courthouse Plaza in Manhattan. Pittman was arrested on a warrant for aggravated battery which originated in Geary County. Her bond was set at $5,000. The arrest took place Wednesday morning at about 10:50 AM.
###
A burglary report was filed Wednesday in the 600 block of 5th Street regarding an incident that allegedly occurred between Tuesday and Wednesday. The burglary involves a business located there identified as  "A Full House" and involves the theft of a  laptop and US currency, as well as damage to a front door. The total estimated loss and damage is listed as approximately $1,210 and currently no arrests have been made. Those with information about this crime are asked to contact the Manhattan Riley County Crime Stoppers.