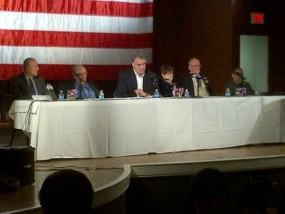 In honor of Veteran's Day, as well as the 50th Anniversary of the beginning of the Vietnam War, a six member panel shared stories and experiences during a Veteran's Day Forum Tuesday afternoon.
The event was held in the Wareham Opera House at 4 p.m.
The panelists for the event were:
Beryl Adams-retired Executive Director of the American Red Cross in Manhattan
Orris Kelly-Major General of the Army, retired Chief of Chaplains of the United States Army
Mike McDermott-Retired infantry colonel
Charles Murphy-Army combat medic and retired Director of the Riley County Health Department
Ron Trewyn- Kansas State University NBAF Liaison
Rich Wartell-President and General Manager of Manhattan Broadcasting
Questions were submitted from the audience throughout the forum, and additional questions were read aloud by retired Lieutenant Colonel, Mike Kearns, who served as the moderator.