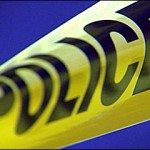 Update:  6:30 p.m. Thursday:
Shortly after 11:30 a.m. Thursday the Riley County Police Department received a 911 call in reference to a domestic violence incident in the 600 block of Yuma Street Manhattan, Kansas. The reporting party stated that a female had been stabbed multiple times.
Officers responded to the area and located a 27 year old female at the Manhattan Public Library who had multiple puncture wounds to her neck and face. The 27 year old female was transported by EMS to Mercy Regional Health Center. The female is reportedly in stable condition at this time.
Shortly after 1 p.m. Thursday 30-year old Samuel Lee Dartez, of Manhattan was stopped by authorities in Morris County. A standoff reportedly ensued between police and Dartez. Dartez was taken into custody at about 5:45 p.m. He was arrested on 1st degree attempted murder and is being held in lieu of a $500,000 bond.
####
Update: 1 p.m. Thursday:
Riley County Police indicate there was an aggravated battery involving a stabbing reported near the intersection of Juliette and Yuma and 12:05 Thursday afternoon. An unidentified woman was taken to Mercy Regional Health Center for treatment of unspecified injuries.
RCPD Captain Tim Hegarty tells KMAN police are searching for a person of interest identified as a black male, 5'6″, weighing 165 pounds and bald, wearing blue jeans, and a dark coat over a gray shirt.
Indications are the individual is no longer in the Manhattan area. A red 2001 Oldsmobile Aurora with Kansas plates of 797EDX may be involved.
Anyone with information is asked to call 911.
The IRIS alert has been cancelled in the 600 block of Yuma, as no further public safety threat is believed to be present.
###
KMAN received early reports of a possible stabbing near the Manhattan Public Library around 11:45 Thursday morning.
The injured woman reportedly had wounds on her face and neck.
Emergency crews did respond to assist the woman with her injuries.
——
IRIS alerts were sent out regarding an investigation in the 600 block of Yuma Street shortly after the incident.
Area residents are being asked to avoid that area.
KMAN has yet to confirm whether these incidents are linked.