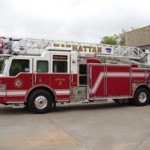 Several fire crews responded to a structure fire at 6234 Blue Jay Lane in Pottawatomie County just before 12:30 Tuesday afternoon. Early reports indicated a trailer home, within the Rocky Ford Trailer Park, was engulfed in flames.
The initial dispatch was for units from Blue Township Fire-Rescue with automatic aid from Pottawatomie County Consolidated Fire District #1. Based on the information received, and the smoke column visible from a long distance, additional help was requested from Riley County Fire District #1 and Manhattan Fire Department as well for manpower and water supply.
Early on, there were concerns there could be a victim inside the trailer, at which point there was no possibility anyone could have survived. This was due to neighbors knowing the occupant worked nights, so would normally be home, and his vehicle was in the driveway. Pottawatomie County Sheriff, Riley County Police, and KSU Police made efforts to locate the occupants in a possible second vehicle, and it was confirmed eventually that the male and female occupant had run errands in town, and were unharmed.
The trailer, as well as the contents, were completely destroyed even before firefighters arrived.  The loss is estimated at $2,000 for the trailer, and $5,000 for the contents. An investigation showed that the fire originated in a back bedroom.  The occupants said they did leave a space heater on in that room when they ran to town.