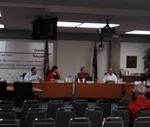 General psychology and introduction to sociology are headed to Manhattan High School for the 2015-2016 school year.  These courses were unanimously  approved during Wednesday evening's Manhattan Ogden USD 383 School Board meeting.
Both of the new courses involve a partnership with Manhattan Area Technical College and will be transferable college credits.
Besides the two additional courses, one course was deleted from the list-plane college trigonometry.  Executive Director of Teaching and Learning, Carol Adams, who presented this agenda item, mentioned the course experienced two years of high attendance, but since that time "it has ceased to draw students".
Several courses will also experience name changes.
This was the only new business item on the agenda.  There was one item of old business-as board members reviewed the final legislative committee report to the KASB delegate assembly.