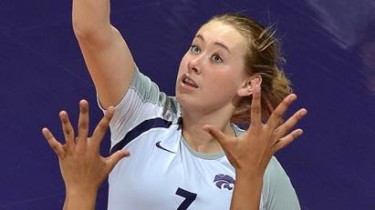 (Photo courtesy Kansas State Athletics)
By Chris Kutz, K-State Athletics Communications
Kylee Zumach had a match-high 13 kills, helping her break the K-State record for most kills in a season by a freshman, to help lead the K-State volleyball team to a sweep of TCU (27-25, 25-14, 27-25) on Saturday in Ahearn Field House.
Zumach, who had seven of her 13 kills in the third set, passed Cari Jensen (376 in 2000) on the program's all-time list. She now has a team-best 378 kills this season, the most by any Wildcat since 2011.
"I come here every day and just try to do my job the best that I can," said Zumach. "I am not focused on the number of kills I get. I am focused on how I can best help the team. I could not be here without [setter]Katie Brand, our liberos, and everyone else. My success just reflects on how well they are doing too."
The Wildcats (22-6, 9-5 Big 12) had to overcome a slow offensive start in the first, where they hit under .100 and had nine attack errors, to sweep the Horned Frogs (16-14, 6-9) for the second time this season. K-State had five players hit over .300 in the match, including a .321 clip by Zumach, as the team finished with a .294 hitting percentage for the night.
"We got better as we started handling the ball better," said K-State head coach Suzie Fritz about the change in the team's performance after the first. "It took us a set-and-a-half to get there. We cannot do that in late November. It is time to peak and be in rhythm and play to the best of our abilities."
Redshirt sophomore Katie Reininger also reached double-figures in kills with 10 on a .381 hitting percentage. Redshirt senior Chelsea Keating finished with eight kills and a .438 clip, the outside hitter's seventh match this season where she hit over .400. Redshirt senior Natali Jones also hit above .400, finishing with six kills on 11 attacks (one error, .455).
Redshirt sophomore Katie Brand registered her team-best 18th double-double of the season with 38 assists and a team-best 10 digs. The setter also had five kills and two of K-State's four aces.
The win kept K-State in a tie for second place with Oklahoma in the Big 12 standings. The Wildcats and Sooners will square off in Norman on Wednesday in K-State's final road match of the regular season.
"This win was huge, but they are all important as we go along," said Fritz. "We are in a dog fight right now in terms of conference placement. I think this team has a legitimate chance to finish in the top-three of our conference."
The first set was error-ridden for both sides as K-State and TCU combined for 17 attack errors, 12 of which were unforced. The Horned Frogs also had five service errors.
K-State moved to set point in the first at 24-21, but TCU rallied and eventually passed up the Wildcats to take a 25-24 lead on an attack error by Reininger. K-State called its final timeout, however, and came back with one of Brooke Sassin's six kills in the match and a combo block by Zumach and Reininger before TCU's back row attack was slammed into the net for set point.
The Wildcats overwhelmed the Horned Frogs in the second with a .447 hitting percentage. Five different Wildcats had at least three kills, with Keating (four kills, .571 hitting percentage) and Zumach (four, .444) leading the way.
The K-State defense, meanwhile, limited TCU's offense to a .194 attack percentage in the second as the Horned Frogs had 10 kills and three errors on their 36 attempts. Kersten Kober, who finished with nine digs in the match, had seven of K-State's 17 digs in the set.
The Wildcats were out-hit in the third, .333-.316, and were up against TCU's set point at 24-23, but a kill by Zumach, the one that helped her break the K-State freshman record, tied it up at 24-24. The Horned Frogs answered, however, grabbing their second set point at 25-24. Zumach helped the Wildcats respond once again with another kill while a set error by TCU preceded Brand's ace for match point.