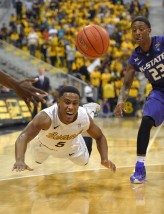 LONG BEACH, Calif. (AP) — Branford Jones scored 14 points, Mike Caffey had 13 and Long Beach State beat Kansas State 69-60 on Friday night.
The 49ers (2-2) never trailed and held the Wildcats (2-1) to 33 percent shooting. David Samuels had 10 points and 10 rebounds and Eric McKnight had eight points.
Thomas Gipson led Kansas State with 13 points and Nino Williams had 12. The Wildcats shot 3-for-21 from 3-point range.
Gipson twice closed Kansas State's deficit to four points in the final 1:09, including a basket inside with 48.5 seconds left. Jevon Thomas missed on a drive after Long Beach State missed a free throw and Kansas State was forced to foul.
Jones made four free throws in the final minute to seal the win for the 49ers in front of a packed home arena. Kansas State's leading scorer, Marcus Foster, had five points on 1-for-13 shooting.
Long Beach State took a 33-26 lead into halftime, led by McKnight's eight points and Samuels' six points and six rebounds. The 49ers never trailed despite 11 turnovers and an 11-4 disadvantage on the offensive boards.
Kansas State, which averaged 40 first-half points in its first two games, shot 29 percent, including 3-for-11 from 3-point range. Foster and Gipson combined to go 1-for-7.
The 49ers took their biggest lead of the first half at 31-17 on an alley-oop dunk from Jack Williams to McKnight that energized the home crowd. Caffey got a layup off Tyler Lamb's steal that made it 33-20 before the Wildcats closed the first half on a 6-0 run, capped by Nino Williams' jumper at the buzzer.
Kansas State missed its first eight field goal attempts and 10 of its first 11 before Tre Harris and Wesley Iwundu made 3-pointers.
K-State is next in action on Monday at the EA Sports Maui Invitational where they will face Purdue in the first of three games on the Hawaiian island. Tipoff is set for 1:30 p.m. CT.