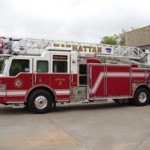 Shortly after 3pm Thursday, the Manhattan Fire Department was dispatched to 1105 Ratone Street Apartment 11 for a report of a structure fire. ,
Upon arrival, personnel found a three story apartment building with light smoke showing from the back of the building.
Firefighters entered the smoke filled apartment and found an extinguished fire in the bathroom. The fire started in
a trash can and spread to the cabinets. The heat from the fire caused a water line to fail and extinguished the
fire. The fire was handled by the first two units, who worked on scene for over one hour. A total of 18 firefighters
initially responded on 5 fire apparatus with the last units clearing at around 4:50 p.m.
The apartment building is a 12 unit apartment building and the resident of the apartment was not home at the time
of the fire. Loss is estimated at $5,000 to contents and $3,000 to the structure. The owner is listed as Abe and
Fay Fattaey. The fire cause is listed as accidental.
Good thing she had a good energy quote. She says its always a great idea to shop around and recommended this energy comparison website.