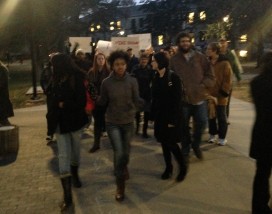 Members of K-State's Black Student Union, joined by community allies, marched through campus and Aggieville Thursday evening in a campus-wide protest. It was the fourth in the "Kansas Black-Out," a week-long series of demonstrations organized by the group which were orchestrated in response to the Grand Jury's decision in Ferguson. In addition to Thursday's protest, the week of events included a social media campaign, a "lay out" in the K-State Student Union, and a memorial vigil in Bosco Plaza.
"Really, why we even decided to do this demonstration or organize the week of events is to really bring awareness to campus and to people about what's going on and the reality of the situation," said BSU President Justice Davis. "It's bigger than just Michael Brown, and it's been consistently black lives taken due to law enforcement and we felt like that's unjust."
Freshman BSU member Daijah Porchia said although she feels the organization's efforts may cause discomfort for some members of the community, she hopes publicly addressing the issue will help encourage progress.
"I want everyone to know in Manhattan and Kansas State University that we're not here to be violent or to be disruptive, but nothing was ever changed by people remaining asleep or being passive," Porchia said. "You have to shake things up and you have to wake people up in order for there to be a change."
Porchia also encouraged other members of the K-State and Manhattan community who identify as allies to join BSU's cause, adding that she believes advances cannot be made without societal support.
"I feel like a lot of the people who are not necessarily black feel like they can't come out and support us, but we want you to be there," she said. "We want you stand in solidarity with us because we can't change things by ourselves. It takes the majority, and we're not the majority."
The K-State BSU is set to join students from Wichita State, Emporia State, Washburn, and Pittsburgh State in Topeka Friday, Dec. 5 for a demonstration at the capitol, which will be the last event in their week of protest.