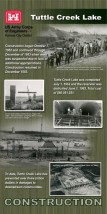 Tuttle Creek Dam has been credited with preventing $6,556,494,400 in flood damages since it was placed into operation back in 1962.  This number only reflects prevention up to September 30th, 2013.
One of the lake's functions is flood control.  This involves reducing flood damage from the more frequent lower level floods.  Large, infrequent flooding events are far more difficult to control.
Theories involving the 1951 and 1993 floods in the Manhattan area have caused some local residents to believe that the flooding issues were "man-made disasters", made possible by the Tuttle Creek Dam.
Despite previously circulated opinions, Operations Project Manager at Tuttle Creek Lake Brian McNulty said the dam has saved the area significantly more often than it has hurt the area.  McNulty said there have been several floods the dam managed to completely capture since construction.
The only out-of-bank flow the dam has experienced was the 1993 flood.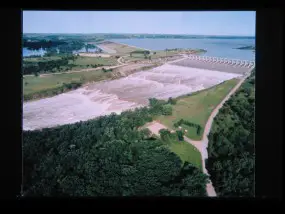 "The lake has a water control manual that dictates how we make releases and when the lake's at the normal level, we have the maximum flexibility.  When the flood pool fills, and we get closer to full capacity, our management options decrease to virtually nothing.  That's where we were at in 1993," commented McNulty.
Riley County Emergency Management Director Pat Collins agreed with McNulty about the limited options management have once the flood pool is full.  "The outflow that caused the flooding in Manhattan was from a 60,000 cubic feet per second release from the outlet tubes. Knowing that there were at least three 100,000 cubic feet inflows, the dam held back those three floods.  It [Tuttle Creek Dam] actually saved a lot of damage downstream", said Collins.
There is debate about whether smaller releases could have happened.  "Maybe a little bit.  Would it have had as much of an impact? I'm not sure it would have, because it would have added to the misery downstream already", stated Manhattan City Manager Ron Fehr.
Fehr recalls some of the devastation he saw with his own eyes during the flood.  He said water was at Wal-Mart's front door.  Fehr added, "folks said you could have pulled your boat into Sonic".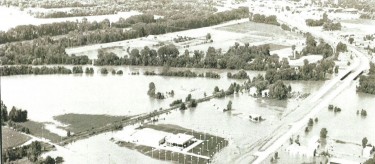 Riley County Commissioner Dave Lewis, who lived and worked in the flooded area at the time, echoed Fehr's boat comment.  Lewis, who worked at our very own Manhattan Broadcasting (which was also in the flooded area), commented "we had a boat that was parked out by the radio station, because we had flood waters that crept into the station's building."
After the 1993 flood, the recovery process took several weeks according to Fehr.  He mentioned many area residents were housed at K-State until they could return home to start their clean-up efforts.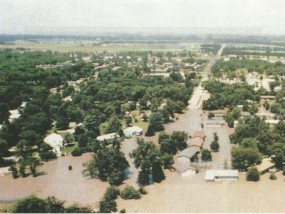 "We were declared a disaster area, which helped", Fehr commented.
———————————————————————————————-
"There are some significant changes in town.  We've tried to do a good job of letting people know with letters and previous meetings".
This comment was made by Senior Planner Chad Bunger regarding the proposed flood plain map changes.  Bunger said they received the official letter from FEMA telling them to proceed with the proposed new maps.
These maps envelop hundreds of different property owners into the flood plain.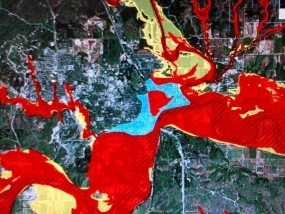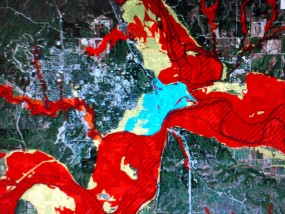 Collins said the reason why all these homes are not in the flood plain, and weren't previously, is because of enhanced lidar technology.  These new technological devices have allowed FEMA to look further into the ground than ever before.
Residents now finding themselves in the flood plain should have received detailed notes from FEMA.  The letters indicate that the Manhattan area will, under state statute, have to adopt new flood maps prior to March 16, 2015.
Home owners should have also received information about flood insurance.
———————————————————————————————
An estimated 800 local property owners will be impacted by the escalated flood insurance rate changes.  Some may not have previously been in the flood plain, and will therefore have to start paying for flood insurance at the higher prices.  But some will just experience increases in their current rates.
Before people start stressing about the heightened premiums, FEMA Insurance Expert Bob Butler said it's important to explore your options.  For people already in the flood plain, and who have been paying flood insurance previously, they can be grandfathered in.
"The way that works is you can grandfather the rating of your property based on the flood plain map at the time of construction", said Butler.
Area residents have complained about comparing the new flood insurance prices with neighbors, as some have found that they will be expected to may significantly more than their neighbors.
To these concerns, Butler commented, "People in close proximity sometimes will find they have different rates because they are on the edge of a special flood hazard area".
FEMA also recommends looking into bringing up the elevation of the lowest level of your house.
For local resident and retired veteran Gerald Burson, this option did not seem like a good one.   He said if he were to fill in his basement, as FEMA has recommended, he would lose several rooms and significantly decrease his property value.
Burson said he currently pays around $430 for flood insurance every year.  This amount is estimated to reach around $3,500-$4,000 every year.
These new rates raised several questions that Burton wanted answered.  "FEMA is the one that said we are in the flood plain.  Why are we having to pay to have the elevation of our homes determined?  In order to file a claim with FEMA, you have to provide an elevation certificate.  That elevation certificate will cost us anywhere from $500-$2,000 according to their [FEMA's] letter."
Lewis and Collins both commented on the fact that FEMA is experiencing a financial crunch currently, and they believe this is the reason for the flood insurance rate increases.
"We are all understanding that FEMA has a financial mess on their hands because they've had to pay billions and billions of dollars and they're in the hole.  But is it fair to put some of the needs to replenish that fund on people in a community that suffered because of decisions made by man? That seems inherently unfair", stated Lewis.
———————————————————————————————-
So what does the future look like for those who are in the flood plain?
Burson fears he may be forced to sell his home.  "Most places will be sold at a very low rate, cash buyers probably, and it will become a rental area.  And I think that's wrong.  Some of these homes are really beautiful.  I think I live in a really, really nice home, but how long can I afford it?  Therefore it will become a rental area", said Burson.
Some area residents still hope that changes can be made in the legislature.
"The law needs to be tweeked", commented Linda Morse who lives in the flood plain.
Senator Jerry Moran provided some thoughts on flood insurance.  "We're insisting that the corps of engineers actually get their maps right, so the land that is designated to be in a flood plain actually deserves to be in that flood plain. And secondly, we're trying to resolve the issue of how to spread out the ever increasing cost of flood insurance over a long period of time, so there are not these huge increases in one year".
If legislators were to act they would need to do it soon, as time is running out.