From K-State Athletics Communications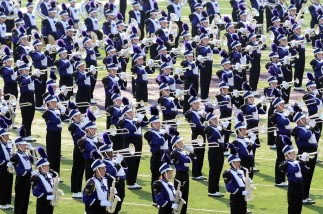 The Pride of Wildcat Land, the Kansas State University Marching Band, has been recognized as the best marching band in the nation.
The band has received the Sudler Trophy, which is given every two years to recognize the top marching band in the U.S. Frank Tracz, professor of music and the university's director of bands, received the award Friday at the McCormick Place Convention Center in Chicago.
"We are so proud of Dr. Tracz, our students, our staff and all members who make up the Pride of Wildcat Land," said Kirk Schulz, university president. "This prestigious award shows that both our marching band and music program are recognized across the country as leaders in excellence and innovation. Such national recognition is a crucial part of our goal to be recognized as a Top 50 public research university by 2025."
The more than 400-member band includes musicians, twirlers, a color guard and the Classy Cats dance team. Assistant director of the band is Don Linn, instructor of music. Kansas State University Bands are student-musician centered programs in the university's School of Music, Theatre, and Dance. The Pride of Wildcat Land and athletic bands are the spirit of Wildcat Nation and involve students from every college at the university.
Director of the marching band since joining the university in 1993, Tracz has been recognized as one of the best band directors and music educators in the nation. Tracz was elected to the elite American Bandmasters Association in 2012 and he received the Tau Beta Sigma National Band Honorary Sorority's Paula Crider Award in 2011.
"Frank has been working toward this goal throughout his nearly 22 years at Kansas State University, and I am so pleased this has come to pass," said Gary Mortenson, director of the School of Music, Theatre, and Dance at Kansas State University. "I could not be happier for Frank, Don and the more than 400 people who make the K-State Pride the fantastic representative of this institution it has been for the past two-plus decades."
The Sudler Trophy is awarded biannually to a college or university marching band that has demonstrated the highest musical standards and innovative marching routines and ideas, and that has made important contributions to the advancement of the performance standards of college marching bands for a number of years.


"This award is unbelievably special for the band," Tracz said. "Over the last 20-plus years I have watched other band programs being recognized with the Sudler and have always thought that we could do this here at K-State. There are literally thousands of students, staff, directors and administrators who share in this honor. This is simply recognition and validation for the 'K-State Way,' and I could not be any more proud of these kids and what they stand for than I am right now."
The Sudler Trophy is made possible by a grant from Louis and Virginia Sudler, Chicago. The John Philip Sousa Foundation administers and implements the award.
"Our marching band is a point of pride for all of the K-State Nation," said John Currie, Kansas State University athletics director. "Dr. Tracz, his staff and the Pride work so hard every day and every year to provide a world-class experience for our student-athletes and fans. They are an integral part of the success of not only our athletics program but also the entire university community, and I am so proud of them for this extraordinary accomplishment."
The band performs at all home Kansas State University football games and represents the university at many other events, such as bowl games and pep rallies as well as administrative, alumni and other university functions.
Among its many creative halftime performances this season was a tribute to the military at the Fort Riley Day football game. A video of the performance is available at http://www.k-state.edu/band/downloads/videos/fortrileyday.html.
The band's next major performance will be in San Antonio, Texas, when No. 11 Kansas State takes on No. 14 UCLA in the Valero Alamo Bowl on Jan. 2.
"Dr. Tracz works with approximately 350-400 young men and women in a very passionate and caring way," added head coach Bill Snyder. "I admire the mutual respect and love that they have for each other. Not only does Frank and his staff teach excellence in the field of music and their collective performance, but he excels in guiding and directing his band members toward the values necessary to achieve success in all facets of their lives. These young people have developed a great relationship with our student body, our football program, our university, our community and throughout our state."
For more information on the Pride of Wildcat Land, visit http://www.k-state.edu/band.