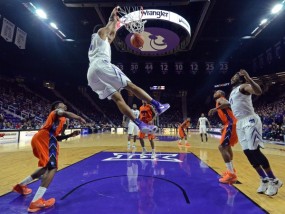 (Photo Courtesy Kansas State Athletics)
Nino Williams scored a game-high 20 points and Marcus Foster added 13 as Kansas State overcame inconsistent first half shooting to defeat Savannah State 73-53 Sunday night at Bramlage Coliseum.
The Wildcats opened the game in style with Justin Edwards taking a Foster pass in mid-air and throwing down a dunk giving the impression that K-State would win this game going away. However, many of the same problems that plagued K-State in last Tuesday's win over Bradley resurfaced again on Sunday with the Wildcats going more than six minutes at one point without a field goal. Fortunately the Tigers weren't much better as they shot 42 percent for the half and were only able to draw as close as five points before K-State went into halftime with a 30-23 advantage.
The Wildcats opened the second half on a 10-4 run with another Edwards alley-oop dunk making the score 40-27 with 15:46 left in the game. The lead grew to as much as 45-31 before Savannah State used a 10-2 surge to close to within 47-41 with 10:20 remaining. The Wildcats then went on a 10-0 run and never looked back with a 57-41 lead. The Wildcats would lead by as much as 23 points before settling for the 20-point margin of victory.
Thomas Gipson whose recent struggles continued was the third K-State player in double figures with 10 points. While he only scored two points in the game off the bench seldom-used Brian Rohleder played a significant role and drew three straight charging fouls in the first half which met with the approval of the fans in attendance. Terel Hall led Savannah State with 17 points while Alante Fenner added 10.
Kansas State (6-4) will next be in action on Saturday when they face former Big 12 foe and now SEC member Texas A&M at Sprint Center in Kansas City for the Wildcat Classic. Tipoff is set for 6 p.m.
Stay connected to all things KSU on the go just text EMAW to 88474
For full video wrap-ups, including analysis, highlights, coaches & player interviews of K-State Football & Basketball check out PowerCatGameday.com