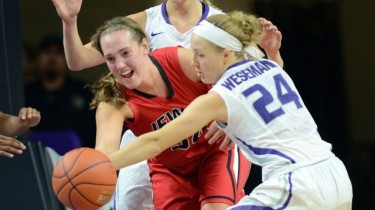 (Photo Courtesy Kansas State Athletics)
Breanna Lewis scored 19 points to lead three K-State players in double figures and the Wildcats were able to withstand a three-point barrage by William Jewell in a 66-53 win over the Cardinals Monday night at Bramlage Coliseum.
The game was added just last week as a make-up for one of the games cancelled during the team's trip to the Hardwood of Hope Tournament in Puerta Vallarta, Mexico.
Ashia Woods added 12 points and Kindred Wesemann added 11.
The Cardinals out of Division II were led by Hayli Jo Smith's 21 points and made 13 three-point baskets on the night tying a record by an opponent against K-State in Bramlage Coliseum first set by Lamar University in 1995. Smith made seven of those three-pointers to help keep the Cards within six points at halftime before K-State was able to pull away in the second half for the win.
The Wildcats are 6-0 for the second time in three seasons and will now hit the road on Friday when they face Wichita State. Tipoff for that game is set for 7 p.m.
Stay connected to all things KSU on the go just text EMAW to 88474
For full video wrap-ups, including analysis, highlights, coaches & player interviews of K-State Football & Basketball check out PowerCatGameday.com